---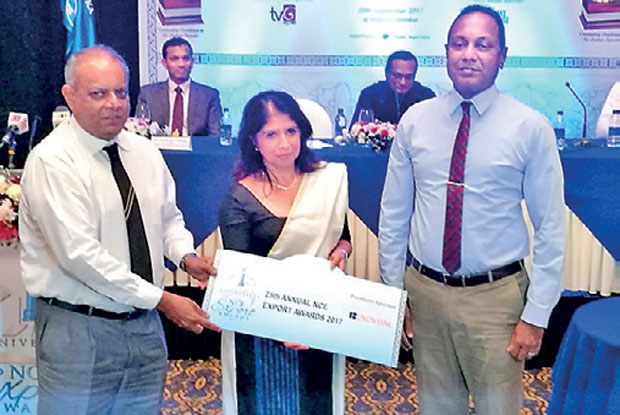 Union Bank Wholesale Banking Vice President Hiranthi De Silva handing over the sponsorship cheque to NCE President Ramal Jasinghe and NCE Secretary General/CEO Shiham Marikkar
Union Bank announced its partnership as the Premium sponsor of the Annual Export Awards organized by the National Chamber of Exporters (NCE) of Sri Lanka.

This is the fifth year in which Union Bank has partnered the event and the second consecutive year as the Premium sponsor of the awards.

Commenting on the event partnership, Union Bank Wholesale Banking Vice President Hiranthi De Silva said: "It is a great pleasure to come forward as a Premium sponsor of the NCE Export Awards that recognise local exporters for their noteworthy achievements within the sector and for the contributions made to the national economy through their enterprises. With its roots firmly embedded in SME banking, today as a fully-fledged commercial bank, Union Bank still continues to place dedicated focus on empowering SMEs and entrepreneurs. As the Premium sponsor, the bank will be partnering the awards for 'Best Performer in Emerging Markets, Best SME Exporter, Best Value Added Exporter – Services and Best Value Added Exporter – Products', categories; thereby reinforcing Union Bank's continuous commitment towards the development of export potential within the SME sector."

For over two decades, Union Bank has extended its support towards empowering Sri Lankan entrepreneurs, especially inspiring the small and medium scale entrepreneurs to improve their export potential. Today, as a fully-fledged, licensed commercial bank etched with financial stability and the international know-how of the global investment giant TPG; Union Bank has enhanced its product and service offerings across Corporate, SME and Retail Banking segments to help them reach their financial and business goals.

Union Bank's enhanced portfolio, which includes diverse propositions that span across Corporate Banking, Trade/Treasury services, and Investments; has enabled the bank to generate customised financial solutions for exporters in the form of debt, equity and working capital.

Its Corporate Banking and Trade Financing divisions are geared to provide expert financial advice coupled with diverse Trade Finance tools including pre-export loan facilities and export bill discounting facilities to help meet the funding needs at the post-shipment stage. Advising of Letters of Credit (LCs), processing collection bills and issuing shipping guarantees are amongst other specialised services extended by Union Bank to local exporters. The bank also grants foreign currency loans to exporters at competitive rates and funds the working capital cycles of the exporters through customised loans.

"We appreciate this initiative of the National Chamber of Exporters (NCE), which encourages local exporters to continuously improve their business performance. Such initiatives are imperative to continuously improve the standards of this sector. I would like to congratulate the NCE for their efforts in conducting this awards ceremony successfully for 25 years, while thanking the chamber for their commitment towards developing this nationally important segment. I hope this year too, the awards ceremony will attract high quality applications and would like to wish the participants all the very best at this national awards contest" De Silva further opined.