---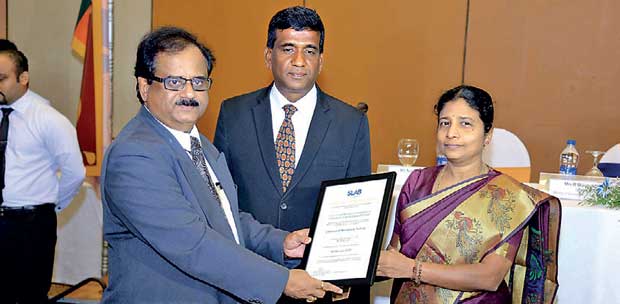 Kiran Redkar- Director/Chief Executive - UlraTech Cement Lanka (Pvt) Ltd receiving award from Secretary of Science, Technology & Research R. Wijithaludchumi
UltraTech Cement Lanka was awarded an ISO certification of accreditation by the Sri Lanka Accreditation Board for Conformity Assessment (SLAB) at World Accreditation Day 2017 for maintaining an internationally certified testing laboratory.
UltraTech Cement Lanka is the only bulk cement terminal in Sri Lanka to run a state of the art, internationally accredited laboratoryexclusively dedicated to testing cement.
The leading cement importer was awarded an ISO/IEC 17025:2005 Accreditation Certificate and was accredited as a testing laboratory under the field of Chemical and Mechanical Testing at World Accreditation Day 2017 held in Colombo this month. The scope of accreditation focuses on performing chemical and mechanical tests on cement (Ordinary Portland Cement and Portland Pozzolona Cement) and concrete. UltraTech Cement Lanka can officially provide internationally recognized certificates and test reports under the "ilac-MRA" logo.
Kiran Redkar - Director/Chief Executive - UltraTech Cement Lanka (Pvt) Ltd commented that the accreditation comes as recognition of UltraTech Cement Lanka's commitment to ensuring quality control, monitoring and research in the cement industry. "By underscoring the importance of stringent quality checks and research in the cement industry, we renew our commitment to developing the quality of cement and construction industry in Sri Lanka. With these accreditations we are better equipped to offer quality and unbiased reports through UltraTech Cement Lanka's cement and concrete testing laboratories".
SLAB is the National Accreditation Authority for Sri Lanka and functions under the purview of the Ministry of Science, Technology and Research. The event marking World Accreditation Day 2017 organized by SLAB saw 180 industry experts participating at the seminars including engineers, HODs of testing laboratories, university lecturers and senior management of construction companies. The Ministry of Science, Technology & Research Susil Premajayantha, Secretary of Science, Technology & Research, R. Wijialudchumi and the Chairman/Deputy Director and staff members of SLAB were also present at this year's event which revolved around the theme 'Delivering confidence in construction and the built environment'.
In addition to the technical sessions at the event, Sandeep Holey, Senior General Manager – Marketing & Technical at UltraTech Cement Lanka(Pvt) Ltd, addressed the eminent gathering speaking about how accreditation deliver confidence in the construction industry.
With multi-point and multi-laboratory systems in place, UltraTech Cement Lanka's laboratory services takes on regular testing of cement in the industry, analysing for benchmarking and continual improvement. The internationally recognized lab is managed by industry professionals and provides application-based research to guide customers.