---
Venture to be unveiled in June
Targets high-spending tourists
Europe and ME identified as target source markets
The Bolagala Floating Agro Tourism Resort in Katana, the first of its kind in Sri Lanka, has received approval from the Sri Lanka Tourism Development Authority (SLTDA) to open its doors in June.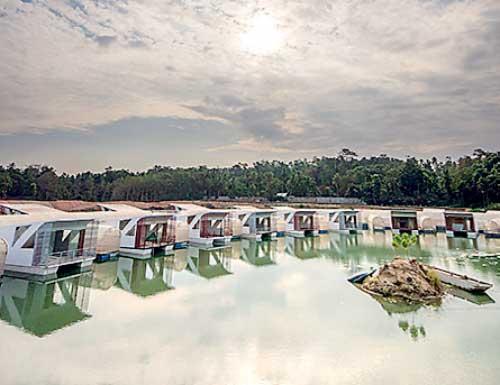 The high-end resort is spread across 13 acres and would consist of 50 floating cabanas, out of which 10 are GPS tracker-equipped to allow free movement across the lake.

"Sustainable and eco-friendly products are the future for tourism particularly post COVID-19, and we look to the industry to be innovative and create unique experiences such as this project," said SLTDA Chairperson Kimarli Fernando, pointing out that the upcoming project in Negombo is a "perfect match" to increase post-pandemic tourism demand.

Abandoned clay mining pits filled with rainwater have been used for the construction of the project.

Conceptualised by entrepreneur Kelum Perera, the project will reach completion in two stages, where the first stage would unveil 3 suite rooms, 27 deluxe rooms, 3 GPS movable rooms, a floating swimming pool and a restaurant, where as the second stage would see the addition of the remaining cabanas, the underwater spa, and other activity-based components.
According to SLTDA, the first stage has already reached completion.

A unique feature incorporated into the project is the underwater spa that would consist of four spa rooms with 4 x 6 feet underwater viewing glass.

International tour operators from Germany, France, UK, and Italy have already visited the site for a look and feel of the standard and quality of the resort to kick off marketing efforts.

With the pricing starting from US$ 400 per night, the primary target market of the new venture are European travelers. However, the SLTDA said the Middle Eastern market has also been identified as a potential source in the future.