---
Tourism Development and Christian Affairs Minister John Amaratunga shied away from accounting for the numerous foreign tours of tourism officials at the cost of millions of rupees in taxpayer money over the past two years despite noting their lack of contribution to Sri Lanka's tourism industry.
Speaking at the Pacific Asia Travel Association Annual Summit, he admitted that tourism growth was driven by tourists coming to Sri Lanka recommending the island to their friends and acquaintances.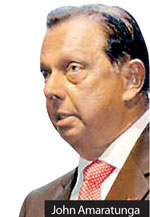 "Just seven years ago, we had less than 500,000 tourists arriving in the country, today that figure has risen to over two million. I would like to point out that except for a brief international media campaign in 2014, this growth has essentially been driven by word of mouth on social media," he said.
When Mirror Business inquired why tourism officials went on foreign tours spending millions of rupees in public funding, if their efforts did not contribute to the development of tourism in Sri Lanka, Amaratunga said that it was because they had to find a way to promote the destination.
"That is because we had advertising programmes. We had to find a way to sell our destination," he said.
This indicates that the government had either not constantly evaluated the effectiveness of officials going on foreign tours or it had knowingly allowed officials to go on foreign tours with no return for the investments.
The Tourism Development Ministry has so far failed to respond to a Right to Information request by Mirror Business to ascertain the public fund spending patterns of officials on foreign visits, as well as the appeal against the failure to provide information.
For nearly a decade, Sri Lanka Tourism had spent mostly on such travel to promote Sri Lanka at foreign trade shows, instead of formulating a long-term sustainable integrated destination promotion campaign.
Amaratunga complained of the lack of funds and the past regime for not having a successful, continuous destination promotion campaign.
However, Sri Lanka Tourism had saved up Rs.2 billion in funds that lay outside the Treasury control until 2016, spent billions of rupees each year and Amaratunga had suspended the tender process of a massive integrated promotions campaign in October 2015 citing corruption, despite the insistence of multiple officials to the contrary.
Meanwhile, Amaratunga said that an advertising campaign on major channels such as Al Jazeera, Sky News, Bloomberg and BBC will start soon, since the past debts with these media companies are now being settled. These dues exceeded US $ 500,000. "Now we're going to start a media campaign. A complaint that came was many people around the world were not aware where Sri Lanka is and what Sri Lanka can offer," Amaratunga said.
Sri Lanka Tourism plans to start a social media campaign worth approximately Rs.500 million this year and a Rs.3 billion long-term campaign in the future, along with a Rs.800 million media plan.
Sri Lanka got revenues of US $ 3.52 billion in 2016, up 18 percent year-on-year. (CW)