---
An outspoken economist yesterday advised Sri Lanka's Central Bankers and politicians to adopt a more or less a homegrown monetary and fiscal policy instead of following mythical monetarism and free markets.
"We have to get rid of outdated economic ideas. One is monetarism, the other is free markets and no state intervention," Sri Lankan-born Professor Howard Nicholas told Sri Lanka Economic Forum 2017 yesterday, attempting to debunk seminal economists like
Milton Friedman.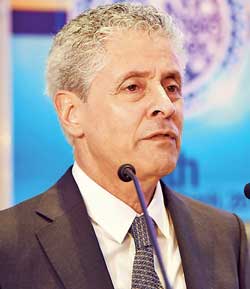 Prof. Nicholas noted that too many Central Bankers across the globe have obtained their doctorates in the US and the Western world, which has limited their trains of thought.
"We need to rethink. We need our policymakers to understand monetary policy. Do we really raise interest rates to curb inflation when we're fundamentally import-driven?" he questioned, referring to Sri Lanka's Central Bank in particular.
Finance Minister Ravi Karunanayake too recently called for a "more Sri Lanka-oriented monetary policy" where inflation is kept low while keeping interest rates low and defending the rupee through intervention in the forex market.
This is despite Sri Lanka's low reserves, high-debt and the need to increase rates to keep investors interested in local securities for
debt rollover.
Local economists have also noted that stable and rational interest rates would increase the confidence in the country in the face of an ever-depreciating rupee, which wouldn't recover without supply-side reforms to boost exports.
Central Bank Governor Dr. Indrajit Coomaraswamy too had noted that it made no sense to defend the rupee.
The International Monetary Fund has forced Sri Lanka to target inflation under the terms of a US$ 1.5 billion balance of payments support loan, a policy Dr. Coomaraswamy too recommended, which drew the ire of Karunanayake.
Meanwhile, Prof. Nicholas said that instead of excessive money printing leading to inflation as monetarism explains, it has led to deflation in Japan, and to a lesser extent in the United States, Europe, and emerging markets.
"Money is being printed. Globally there's an excess of cash, hoping it will lead to inflation, but what's happening to inflation? It keeps falling. It's a myth. And why do I say it's a myth, because people in Sri Lanka. For example Central Bankers, still believe in this myth. These theories are old. They have to bury them, because most other countries have buried them, very fast," he said.
Critics of Friedman's monetarism have noted that his models are based on 'Econs'—super-rational, computer-like humans—instead of accounting for behaviour, as John Maynard Keynes did in his advocacy of state intervention to recover from recession.
However, Friedman's theories dominated the economic landscape from the 1950s until the global financial crisis, during which governments had to engage in Keynesian bailouts.
Prof. Nicholas noted that the cash being printed has not gone into the pockets of the common man, instead resulting in the super-rich engaging in debt-fuelled speculative buying, while governments have covered up the resulting low growth and high unemployment through fraudulent statistics, which explains a disgruntled public turning towards protectionism.
"Where has the money gone? Into the greatest asset bubble of all time.
Whenever there's money printing, the S&P is rising. The money is going into speculative assets, properties and shares," he added.
The super-rich were reassured of the freedom of continuing past practices, since they were bailed out by governments during the financial crisis.
Prof. Nicholas noted that given the current global inflation and growth rates, global debt to gross domestic product should have been around 30 percent, but it has skyrocketed to 260 percent.
"We should be hitting a cycle bottom between 2017-19. Some factors have delayed it but it is inevitable, and the effects will last long," he said.
Meanwhile, he also advocated state-owned enterprises as long as the private sector is unable to create competition in some industries and public goods and services.
(CW)