---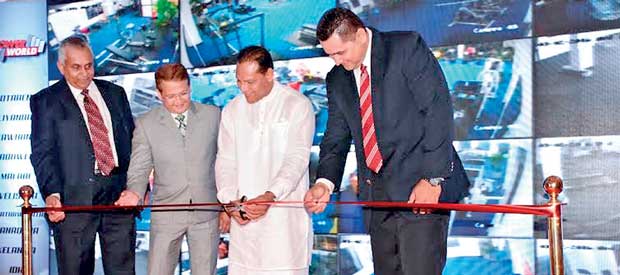 From left - Sarath Wickramanayake - Chairman of Power World, Prashant Talwalkar, Managing Director & CEO of Talwalkars, Minister of Sports, Dayasiri Jayasekara & Talavou F. Alailima, Founder & Managing Director of Power World Gyms Limited

Power World recently announced a strategic investment by Bombay Stock Exchange listed Talwalkars Better Value Fitness Limited, India, and the opening of 10 brand new Power World gyms across the Greater Colombo area.

Both partners boast a wealth of industry experience, as the market leaders in their respective countries. Together, these two powerhouses have set out on a ground-breaking endeavour to put Sri Lankans on the fast-track to fitness.

The 10 state-of-the-art gyms launched by Minister of Sports Dayasiri Jayasekara on 2nd March 2016 are located in Welisara, Kotahena, Kiribathgoda, IDH, Malabe, Kaduwela, Piliyandala, Dehiwela, Moratuwa and Panadura. Each gym is fully equipped with cardiovascular equipment, strength machines and free weights, catering to a membership of up to 1,000 in each location.

The new Power World gyms are equipped with top-of-the-line equipment brands such as Cybex, Life Fitness, Precore, Nautilus, Startrac and Flex in the designated 3,500 sq. ft. – 10,000 sq. ft. area.
Each centre will have dedicated and qualified Fitness Instructors and Fitness Managers, providing members the opportunity to achieve their optimum fitness goals in the shortest possible time.
Talwalkars, in addition to being the leader in Indian fitness since 1932, was the first listed fitness company on the Indian stock market. It made its mark on the Forbes Asia's 'Best Under a Billion' list in 2013.

With over 160 gyms across 84 cities in India, Talwalkars offers a diverse set of services including gyms, spas, aerobics and health counselling to an active member base of over 125,000.
Talwalkars recorded revenues of US$ 36 million in 2015. It has a market capitalisation of US$ 83.6 million.

Speaking on the occasion of the media conference, Prashant Talwalkar, Managing Director & CEO of Talwalkars Better Value Fitness Ltd., said "Sri Lanka is at the cusp of transformational growth in the health and fitness market, with increasing disposable incomes coinciding with heightened levels of awareness in maintaining healthy lifestyles. We are pleased to partner with Power World Gyms and offer our tailor made solutions for the rapid growth expected in the Sri Lankan market."

Power World Gyms pioneered the fitness industry in Sri Lanka in 1994, and has since played a pivotal role in shaping the fitness industry of the country.

Commenting on the occasion, Talavou F. Alailima, Founder & Managing Director of Power World Gyms Limited., said "Power World Gym presents a well-tested and evolved business model for the fitness industry in Sri Lanka, having grown to a network of seven thriving gyms serving over eight thousand members through some of the most challenging times in Sri Lanka. Our partnership is a 'Win-Win' proposition not just for Power World and Talwalkars, but also for many thousands of busy individuals in Sri Lanka, seeking to secure for themselves a healthy and fit lifestyle."

Acuity Partners a full service investment bank provided the independent valuation of the Power World Gym business while Navara Capital Partners acted as the structuring investment bank of the business. Sparrow Advisory, a boutique corporate finance firm based in India acted as the exclusive advisors to Power World Gym sand its founder owner on the transaction.