---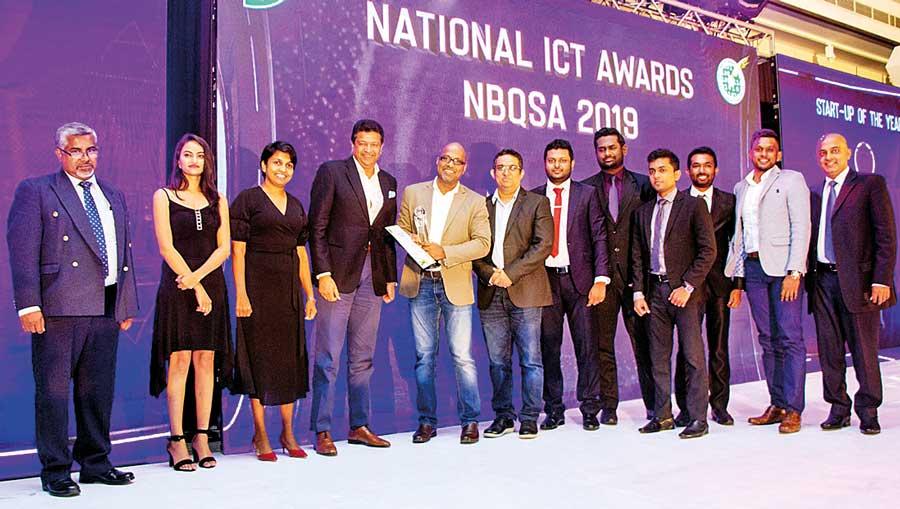 From left: NBQSA 2018 Chairman Sanjeewa Perera, BuyMyTickets.lk Operation Executive Vidharshana Akashi, Infoseek (Pvt.) Ltd COO Thanuja Masakorala, 99X Technology CEO Mano Sekaram, Surecore CEO Namal Gunawardhane, Surecore CTO Janaka Wickramasinghe, Surecore Delivery Head Charith Liyanagamage, Surecore Senior Software Engineer Yomal De Silva, Surecore Senior UI Engineer Tharindu Rupasinghe, Surecore Senior Software Engineer Buddhima Nanayakkara, Surecore Product Design Lead Isuru Hewavitharana and Surecore Chief Architect Priyanga Jayathilake
Surecore was awarded at the recently held 'National ICT Awards - NBQSA 2019'.

The annual event is held to recognise outstanding achievements in developing the next generation cloud-native digital core insurance platform.

Surecore was awarded as the Startup of the Year and one of its software products, SureFarm was awarded as the winner of the Regional, Rural and Remote Services, under the community services category.

Surecore (Pvt.) Ltd is the only technology company in Sri Lanka that specialises in sophisticated solutions for the insurance sector. Surecore was established in 2018 by a team of specialists having over 40 years of combined experience with insurance, technology,
and innovation.

Today, Surecore is the foremost organisation of its kind on the island, with the vision of becoming the leading cloud-native insurance software vendor in Asia. Surecore specialises in building modern, state-of-the-art, hi-tech tools for insurance corporations around the world. Surecore's leading-edge platforms and product portfolio encompass core insurance applications for life insurance (Surecore Life), general insurance (Surecore General), and agricultural insurance (AgriSure). This also includes web portals and mobile apps for external stakeholders such as customers, agents, brokers, assessors and more. These products have revolutionised the way insurance organisations operate, giving them the advantage of using highly customisable, powerful, and innovative cloud-native software solutions. It also allows the insurance sector to abandon more costly and less effective traditional methods and completely automate the exchange of information and data throughout the insurance lifecycle among agents, brokers, insurers, and customers.