---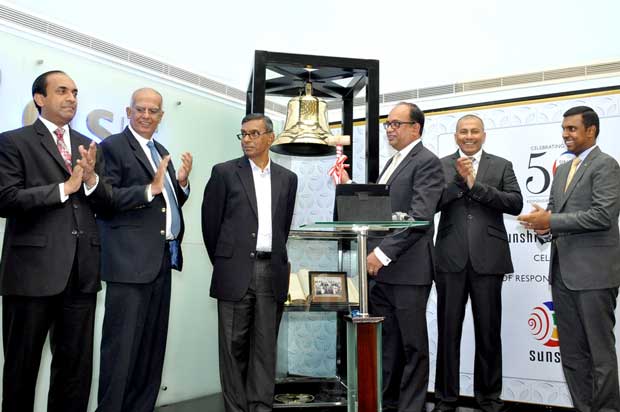 From left: Colombo Stock Exchange Chief Executive Officer Rajeeva Bandaranaike, Sunshine Holdings Board Director Bhandula Hulllangamuwa, Sunshine Holdings Founder and Board Director Govindasamy Sathasivam, Sunshine Holdings Group Managing Director Vish Govindasamy, Sunshine Holdings Executive Director Shyam Sathasivam and Colombo Stock Exchange Chairman Ray Abeywardena
Sri Lanka's most dynamic diversified conglomerate, Sunshine Holdings PLC (SUN), rang the opening bell to commence trading at the Colombo Stock Exchange (CSE) on June 2, 2017.
The bell ringing ceremony was organised by the CSE to celebrate Sunshine Holding's 50th anniversary.
The board of directors and top management of Sunshine Holdings were present at the ceremony while the CSE was represented by Chairman Ray Abeywardena, Chief Executive Officer Rajeeva Bandaranaike and the senior management. Other related senior representatives from the financial services sector were also present at
the event.
Elaborating on the benefits of listing the company on the CSE, Sunshine Holdings PLC Group Managing Director Vish Govindasamy noted that its involvement with the CSE has greatly supported the group in elevating its stature to attract substantial local and foreign investments, which in turn supported greater liquidity and enhanced brand value.
"It is a great honour for our group to take part in today's ceremony given the significant growth opportunities that our involvement with the CSE has enabled. Over the recent past, we were able to participate in international roadshows in London, New York and Singapore.
"Particularly in the last CSE roadshow, we were able to enter into a groundbreaking new partnership with Duxton Asset Management to establish Sunshine's first commercial dairy operation through an investment of US $ 12 million. It is through these kinds of engagements that Sri Lankan listed corporates stand to unleash a new wave of growth in the domestic economy, while serving as a vital platform for international exposure, investment and growth," Govindasamy stated.
He further noted the listing of Sunshine Holdings was instrumental in driving concerted refinements to the company's governance structures, reporting and disclosure procedures, all of which enabled Sunshine to deepen stakeholder engagement and enhance its investment attractiveness.