---
In a sharp censure to those who charge that the present government has slapped the citizenry with the highest possible taxes while taking away the concessions, the country's State Minister of Finance said Sri Lanka is a tax haven in comparison to most other economies in the region and beyond as the new tax rates remain way below that of those countries.

Speaking at a seminar on the new Inland Revenue Act organized by the Institute of Certified Management Accountants of Sri Lanka (CMA), Eran Wickramaratne said Sri Lanka's personal and corporate income tax rates remain among the lowest within and outside of the region.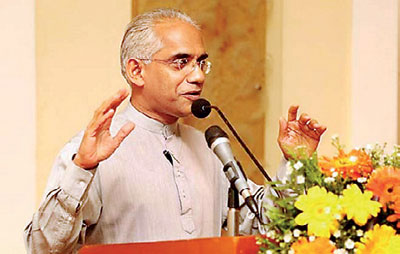 "Often people say, 'oh, taxes are high'. But actually they are not high. I still believe this country is a tax haven", Wickramaratne told a packed house of professionals, comparing the country's new tax rates with a host of other countries.
The new Inland Revenue Act raised the maximum personal income tax rate from 16 percent to 24 percent. But the tax-free threshold went up to Rs.1.2 million from the current Rs.750, 000 per annum, making the monthly employment income up to Rs.100, 000 tax-free.

The new Act, which will come into effect from April 1, 2018, also simplified the tax code by way of introducing a three tier tax structure.

The new tax code, which is said to be a blue print of the tax code introduced in Ghana by the International Monetary Fund (IMF), introduced a 14 percent concessionary rate for companies predominately (80 percent) engaged in the business of exports, education, agriculture, promotion of tourism and IT.

Meanwhile, the businesses which engage in betting and gaming, liquor and tobacco have been made liable for a higher tax rates of 40 percent while all other businesses are taxed at the standard rate of 28 percent, a practice similar to the current law.

"To compare it with other countries, if you look at corporate taxes, in Sri Lanka it's 28 percent, in Bangladesh it's 35 percent, in Brazil it's 34 percent, in India it's 30 percent, In Malaysia it's 24 percent (lower than Sri Lanka), in Mexico it's 30 percent, in South Africa it's 26 percent and every single country there (Africa), are higher than us", Wickramaratne told.

However, the corporate income tax rate in Thailand, Vietnam and Turkey remain lower than Sri Lanka at 20 percent but their individual income rate stands way above Sri Lanka's at 35 percent, the Minister said.

Meanwhile, Wickramaratne who is also an economist by training, attributed to the perennial issue of extremely low national savings in Sri Lanka, which acts as a deterrent for achieving higher level of economic growth.

Despite Sri Lanka's lower national savings, Sri Lankans have over the years enhanced their standard of living as successive governments either received concessional funding or borrowed funds for consumption and investments because Sri Lanka never received substantial foreign direct investment even after the conclusion of the 3-decade long war.

In 2016, Sri Lanka's national savings improved to 28.9 percent of GDP but the rate is as high as 46 percent of GDP in China, a 26 percentage points higher than the global average, the IMF said.