---

SriLankan Airlines, Sri Lanka's national carrier and a member of the oneworld alliance, will be establishing its presence in Australia with daily non-stop services to Melbourne commencing October 29th this year.
Australia is home to one of the largest Sri Lankan expatriate communities, many of whom reside in and around Melbourne, the capital of Australia's 'Garden State', Victoria.
This factor, together with the tremendous potential for business travel and Victoria's growing student population has convinced the airline to plan for the launch of non-stop daily services to Melbourne.
The non-stop services will also facilitate passengers from the Middle East and South Asia seeking onward connectivity via Colombo to/from Australia.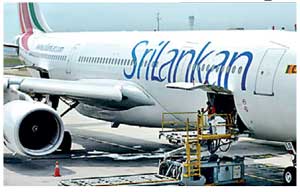 "Our presence in Australia cements the long-standing relationship between our two countries. We recently celebrated the 70th anniversary of diplomatic relations between our nations, and the addition of Melbourne signifies our strategy of optimizing the Airline's network in line with our restructuring.
This also means that we have connected another continent to our global route map.
On the other hand, given the number of Sri Lankans residing in and around Victoria, we fulfill a long felt need for a direct service. We are proud to welcome all the diverse residents of Victoria who can now enjoy the direct connections when visiting their friends and families throughout our network," SriLankan Airlines Chief Executive Officer, Captain Suren Ratwatte said.
The Airline will be operating Airbus 330-200 aircraft on the route, offering its passengers modern in-flight comforts complemented with its award winning service and the world renowned Sri Lankan warmth and hospitality.
SriLankan Airlines' Chief Commercial Officer, Siva Ramachandran said: "Despite the absence of direct connections, we have witnessed a steady increase in passengers travelling between Colombo and Melbourne via various Asian connecting points such as Singapore and Kuala Lumpur.
Our direct services will give us a definite advantage as SriLankan is the only carrier that is able to offer connectivity of this nature at this time. We also offer seamless onward connections beyond Colombo to a range of destinations in the Indian Sub-Continent and Middle East."
With the launch of the new services, SriLankan Airlines' passengers will also have the choice of flying to other Australian cities such as Sydney, Brisbane, Adelaide as well as Auckland, New Zealand.
The airline said it would continue to explore potential expansion opportunities across its network in order to facilitate the envisaged growth in business.
"We congratulate SriLankan Airlines on the addition of a direct flight to Australia. Direct air connections between countries stimulate two-way tourism, business, trade and people-to-people exchange which are the core ingredients for a vibrant bilateral relationship. We are seeing a growing number of Australians looking to travel to Sri Lanka for tourism and business, and to reconnect with family." Australian High Commissioner in Sri Lanka, Bryce Hutchesson said.
For the convenience of travellers seeking onward connectivity from its Colombo hub, SriLankan currently connects over 10 Indian points with over 100 flights a week, which includes services to/from Chennai, Bangalore, Hyderabad, Calcutta, Trivandrum, Tiruchirappalli, Cochin, Mumbai and New Delhi. SriLankan will be adding Visakhapatnam, Coimbatore and Hyderabad to its route network in July this year, further expanding its presence in India.
The airline's Middle Eastern services include over fifty weekly flights to/from nine Middle Eastern destinations, including daily services out of Abu Dhabi, Dubai, Doha, Riyadh, Muscat, Bahrain and Kuwait.
The airline also offers its passengers the option of exploring popular holiday destinations such as Seychelles and Maldives' Male and Gan Island.
These operations will further complement the existing double daily services offered by SriLankan Airlines between Sri Lanka and Australia via Singapore and Kuala Lumpur with its codeshare partners, Qantas and Malaysia Airlines.