---
SriLankan Airlines will have the largest network in India for a foreign airline with the addition of three new routes in July as a part of its regional expansion plans, the national carrier's head told the Pacific Asia Travel Association (PATA) Annual Summit that concluded in Negombo yesterday.
"In India we have added on three more destinations, which (will) make SriLankan Airlines the largest foreign carrier to India. We've added on Hyderabad, Visakhapatnam and Coimbatore, which makes a total of 12 destinations that we operate to in India," SriLankan Chairman Ajith Dias said.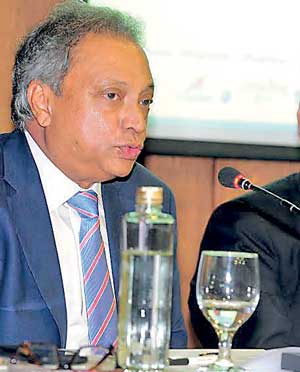 He said that these routes will be added starting from July, with Hyderabad being the first, and that some of these flights would operate daily.
SriLankan has currently switched its focus to service the Asian region, after cancelling most of its long haul flights except London, although Dias said that the route slots to Frankfurt and Paris are still reserved by SriLankan just in case the airline decides to return to those destinations in the near future.
Along with the focus on neighbouring destinations, a re-fleeting exercise is also taking place, with older long-range wide-bodied aircraft being replaced and augmented by six new short-range narrow-bodied A320neo aircraft, two of which have already been delivered.
Dias said that after two more A320neos are delivered this July, the frequency of flights to Delhi and Mumbai will also increase by two each per week, with the ultimate aim of increasing the current daily flights to these destinations to twice daily flights in the future.
The national carrier is also looking to start flights to more Far Eastern destinations in the future, augmenting the destinations it operates to in China.
"We're looking forward to enhancing our range to some of the far eastern destinations with more new short-range aircraft operating direct flights to Hong Kong and hopefully Vietnam," Dias said.
Despite the addition of new routes, increasing pressure of global oil prices, coupled with the lack of overall direction due to being at a crossroad with the selection of a strategic partner to run the airline, will weigh down on losses, Dias said.
"Plans can change because the person who's coming in will have his own plans. It's a very difficult situation at the moment. To do a budget, we don't know what the story is. We're managing as best as we can. Our aim now ifs to make the operational aspects better, as to the exact future, honestly, I don't know. It changes day by day," he said.
Public Enterprise Development Minister Kabir Hashim, under whose purview SriLankan falls, recently said following the exit of the U.S. based Texas Pacific Group (TPG), one of three bidders short-listed to partner SriLankan pulled out recently. The government had intimated that the other two parties that were short-listed lacked capacity and experience to run an airline.
However the deadline for finding a new partner for SriLankan, according to Public Enterprise Development Minister Kabir Hashim, under whose purview SriLankan falls, should happen this month, which Dias confirmed.
What would happen afterwards if a partner is not discovered within the next fortnight is still up in the air.
The airline made Rs. 14.1 billion in operational loss in 2016 compared to Rs.4.9 billion in 2015, with nearly Rs.100 billion in liabilities. (CW)