---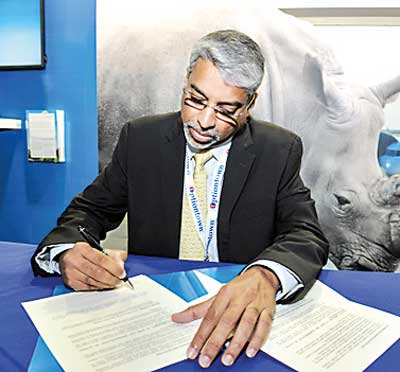 SriLankan Airlines recently joined a landmark worldwide drive to crackdown on illegal global trade in wildlife that has brought many of the world's rare species close to extinction. SriLankan was among several international airlines which pledged their full support for the ʻUnited for Wildlife' initiative, at the Annual General Meeting of the International Air Transport Association (IATA) on 2nd June in Dublin, Ireland. The initiative by major organizations involved in conservation is being supported by the global transportation industry.
SriLankan Airlines CEO Captain Suren Ratwatte, who signed on behalf of Sri Lanka's national carrier, said: "SriLankan Airlines has long been a pioneer of conservation within the global air transport industry, with ground-breaking initiatives such as our 'Planet Friendly Flights' as far back as 2009, and our own extensive conservation efforts are driven by our'Green Team'. We are delighted to join this valuable initiative which we have no doubt will significantly reduce trafficking in illegal species and animal products, and we hope this initiative will help to bring many species back from the verge of extinction."
The initiative was created by the Royal Foundation of The Duke and Duchess of Cambridge and Prince Harry of the UK, bringing together seven of the world's most influential wildlife protection organizations - Conservation International (CI), Fauna & Flora International (FFI), International Union for Conservation of Nature (IUCN), The Nature Conservancy (TNC), Wildlife Conservation Society (WCS), WWF-UK, and the Zoological Society of London (ZSL),with The Royal Foundation. IATA has been inspirational in gathering many aviation related organizations towards this global initiative and in a media release, IATA noted: "The interconnected air transport network is being exploited by criminal gangs to smuggle animals or their products from the killing field to the market place. The air transport industry can help stop this trade by providing additional intelligence to enforcement authorities about suspicious shipments." IATA is the trade association of global airlines, Airports Council International the association of the world's international airports, and the African Airlines Association.