---
WB report says climate change to impact GDP, living standards
Northern and North Western Provinces emerge as top two hotspots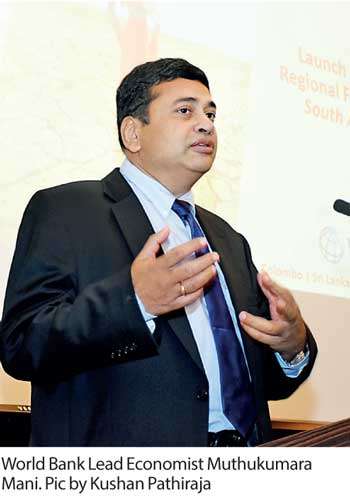 By Shabiya Ali Ahlam
Rapid changes in climate conditions have put Sri Lanka under direct threat and will make it a 'hotspot', where failing to take corrective measures and ensuring their implementation will hinder the country's development agenda and living standards, the World Bank's latest report on climate change revealed yesterday.

While much emphasis has been paid over the years on factors such as rising sea levels, the report stressed that the increase in average temperature and precipitation will negatively impact on the country's gross domestic product and thereby the standard of living.

However, already facing the consequences are South Asian mega cities such as Chennai, Dhaka, Karachi, Kolkata and Mumbai. The four mega cities have been identified as climatic hotspots as they are already vulnerable to extreme events.

A hot spot is defined as a location where changes in average weather will have a negative effect on living standards.

For Bangladesh, India, Pakistan, and Sri Lanka, it was stated that while negative impacts are sizable under climate scenarios, they are more severe under the carbon intensive scenario.

In Sri Lanka, the Northern and North Western Provinces emerge as the top two hotspots, followed by densely populated North Central Province.

With the Northern Province being home to a large number of poor and displaced people, the effects of climate change will add a challenge to its recovery.
The highly urbanized Western Province will also not be spared as it is predicted that the region will experience a 7.5 percent decline in living standard by 2050.
Amongst the districts, it is said, Jaffna emerges as the top hotspot, followed by Puttalam, Mannar, and Kilinochchi.
Given that the five out of ten most vulnerable districts are in the Northern Province, changes in the average weather and vulnerability must be considered for future planning and development activities in that region. The analysis concluded that Sri Lanka's average annual temperatures could rise by 1.0°C to 1.5°C by 2050 even if carbon emission reduction measures are taken as recommended by the Paris Agreement of 2015.

If no measures are taken average temperatures in Sri Lanka could increase by up to 2.0°C. According to World Bank Lead Economist Muthukumara Mani, while weather changes will result in lower per capita consumption levels that could further increase poverty and inequality across South Asia, identifying climate hotspots will help policymakers prioritize resources and actions in specific locations and communities where they are the most needed. "Development is the best adaptation strategy, since it is associated with improved infrastructure, market-oriented reforms, enhanced human capabilities, and stronger institutional capacity to respond to the increasing threat of climate change and natural disasters," he said during the report launch event in Colombo.

It was recommended that ensuring good development outcomes is the best strategy to build resilience to changes in average weather and improve hotspots.
While interventions must be tailored according to the needs of the respective countries, it was stressed that the interventions must account for differences in local conditions between hotspots.