---
The Malaysian High Commission in Sri Lanka is working to catalyze around US $ 200-300 million in foreign direct investment (FDI) from Malaysia to Sri Lanka over the coming years. "Our target is to bring around US $ 200-300 million in investments to Sri Lanka over the next few years," Malaysian High Commissioner in Sri Lanka Zaidi Wan Abdullah said, noting that this is a fraction of the US $ 15 billion FDI outflows from Malaysia.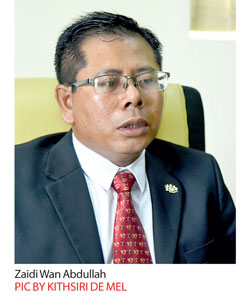 Addressing the media yesterday at the Malaysian High Commission in Colombo, he said that a Malaysian firm is waiting for the Sri Lankan government's approval to construct a US $ 100 million theme park.
Noting the interest of Malaysian tourism firms to invest in Sri Lanka, Abdullah stressed on the need for proper marketing of the tourist attractions in Sri Lanka. "Sri Lanka and Malaysia have similar tourist attractions, but some Sri Lankan attractions are much, much better than in Malaysia, but they are not marketed," he said.
He added that the Malaysian state-owned energy giant, Petronas is looking to invest heavily in Sri Lanka's energy sector to construct and manage power plants and a gas terminal in the Hambantota port, while many Malaysian companies are now interested in investing in Sri Lanka's health sector.
"In the agriculture sector of Sri Lanka, we are looking at how this can be developed into commercially-oriented agro industries. We're not looking at mature industries like tea and rubber, but others with potential, like vegetables, fisheries and marine farming," he said.
Acknowledging that interest for investment opportunities in Sri Lanka is rising daily in Malaysia, Abdullah noted that inconsistent policies and obsolete regulations on foreign exchange, foreign ownership of land, etc. are causing concerns.
"There are concerns of policy consistencies. The (Sri Lankan) government has said that policies will become consistent over the next two years. Not just Malaysians, but many others are standing by to see where Sri Lanka is moving towards," he said.
Malaysian entities have invested over US $ 2 billion in Sri Lanka with the Axiata group's investment in Dialog Axiata PLC and the Khazana Fund's investment in John Keells Holdings PLC, to name a few. This is Abdullah's first stint as a High Commissioner. He was previously posted to Malaysia's missions in Spain, Libya and the UK. (CW)