---
Expects further boost from recommencement of tourism and strengthening consumer confidence
Softlogic Holdings PLC's top line reached near pre-pandemic levels in the three months ended on December 31, 2020 (3Q21), as the group successfully navigated the pandemic through strategies aimed at capitalising on the cash heavy local consumer, while offsetting the losses from the tourism trade.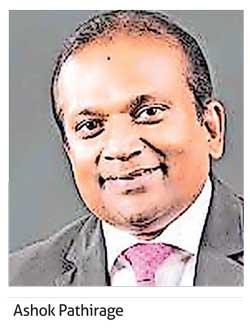 The retail behemoth reported revenues of Rs.21.9 billion in the October-December quarter, slightly down from Rs.22.2 billion in the corresponding period in 2019.

The company reported earnings of five cents a share or Rs.58.2 million for the three months, compared to four cents a share or Rs.52.3 million in the same period in 2019. The company collected over Rs.800 million from the Softlogic Black Friday sales, which has now become one of the biggest shopping festivals in the year. The company's multi-channel approach to retailing—online sales, store-pickups and in-store purchasing—aided this robust performance in the retail business.

The broader retail and telecommunication segment of the group reported revenues of Rs.11.7 billion in the three months, up from Rs.11.5 billion in the same period in 2019.
This segment covers the group's entire gamut of retailing operations, which include up-market fashion coming under Odel, smartphones, consumer electronics, Glomark supermarkets andrestaurant franchises.
"This was fuelled by local consumers alone in the absence of high-spending tourists. Coincidentally, this also corresponds with the positive changes reflected in the market and rising investor confidence," Softlogic Group Chairman Ashok Pathirage said.

"Although foot traffic has relatively slowed down in our stores without tourism, local consumer spending, in-store as well as online, has emerged to be a significant revenue driver. We expect this growth momentum to improve further with the revival of the tourism sector," Pathirage added.

Apart from retailing, financial services, information technology and healthcare sectors remained bright spots in the portfolio while leisure and automobile became the sour spots, due to border closures and temporary suspension on commercial and passenger vehicles.

The financial services cluster, mainly represented by Softlogic's life insurance business and the finance company reported revenues of Rs.4.9 billion for the three months, compared to Rs.4.2 billion in the same period a year ago, as life insurance premiums soared.
Meanwhile, the healthcare sector under the Asiri hospital chain reported revenues of Rs.4.03 billion, compared to Rs.4.47 billion in the same period in 2019.

Operating profits were Rs.703.7 million, compared to Rs.1.05 billion in the same period a year ago.

The group's all six hospitals carry out PCR testing while Asiri Surgical, Central and Kandy offer 'Drive Thru' testing facilities. Meanwhile, Asiri Health recently initiated its first 'Intermediate Care Centre for COVID-19 Patients' in partnership with Siddhalepa Anarva Hotel, to nurse COVID-19-affected patients. Siddhalepa is one of Sri Lanka's most reputed healthcare brands, known for its use of the centuries old, rich heritage of healing practices in Ayurveda.

Softlogic's information technology segment saw higher performance, due to the accelerated need for digital connectivity in the post-COVID environment – home working for corporates and schools. This segment reported revenues of Rs.1.12 billion, compared to Rs.1.19 billion and a higher operating profit of Rs.162.7 million, from Rs.101.6 million.

The leisure and property sector of the group, which has a city hotel in Colombo and a resort, saw its revenues sinking to Rs.63.7 million, compared to Rs.665.8 million in the year earlier period. This segment plunged into a loss of Rs.257.8 million, from a loss of Rs.64.5 million a year ago.

The group remains largely positive of the faster revival in the tourism trade in the near future, which will further aid the group's business and financial prospects.
"No doubt Sri Lanka's economy is closely intertwined with the global economy and pent-up tourism will become one of the greatest boons in history when tourists identify Sri Lanka as a destination, which managed its COVID-related issues and death rates with exemplarily low incident rates," Pathirage said. As at December 31, 2020, Ashok Pathirage held a 41 percent stake in Softlogic Holdings while Semena Ceylon Holdings Limited held 20.75 percent.