---
Total SoE debt hits whopping US $ 12bn or Rs.1,848bn
Includes govt. guarantees, outstanding debt to banks and foreign borrowings
"We assume that some of these contingent liabilities will crystallize"- Moody's

Moody's Investors Service put Sri Lanka's public enterprise debt at a whopping 14 percent of gross domestic product (GDP) and warned the government of additional risks to its finances should such debt requires any state support, which is likely to become the case.

This translates to a massive debt pile of little under US $ 12 billion or Rs.1,848 billion that has got accumulated due to the continuous annual losses of such state-owned enterprises (SoEs).
According to Moody's, the total liabilities include government guarantees, outstanding SoE debt to the banking system and outstanding SoE foreign borrowings.

The SoE foreign borrowings were as a result of some of these public enterprises such as SriLankan Airlines. The national carrier was asked to directly borrow from international capital markets to keep those debts off the government's balance sheet.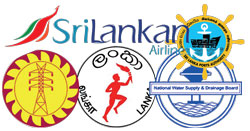 In fact, SriLankan Airlines' liabilities alone have reached around 4.0 percent of GDP.

"We assume that some of these contingent liabilities will crystallize," Moody's said in its annual credit analysis.

During the first four months of 2017, the SoE borrowings rose by Rs.62 billion and out of which, Ceylon Petroleum Corporation (CPC) accounted for a sizable amount.

This is in contrast to the Rs.28 billion contraction seen in total credit to the public corporation in the whole of 2016. This is because CPC having to meet the bulk of the energy demand through high-cost thermal energy.
The SoE debt is a main source of economic instability in Sri Lanka because such debt often is accommodated through printed money creating inflation and external vulnerability.

In March 2017, the government signed Statements of Corporate Intent (SCIs) with several large SoEs, including the Ceylon Electricity Board, National Water Supply and Drainage Board, Sri Lanka Ports Authority, CPC and Airport and Aviation Services Ltd.

The SCIs are in line with the ongoing International Monetary Fund programme structural reform benchmarks that focus on reducing the losses of inefficient SoEs and improving their overall operating performance.

While the SCIs provide benchmarks, they do not specify mandatory reforms or penalties when targets are missed, which may reduce their overall effectiveness.

Political appointees, poor governance and management, absence of market-based pricing and powerful trade unions that scuttle both good and bad reforms have been some of many perennial issues plaguing Sri Lanka's SoEs for decades.