---
Singer Sri Lanka PLC has felt the brunt of the weaker economy at the beginning of the year as sales moderated and costs escalated as a weakened rupee and rising interests rates squeezed the margins of the country's largest consumer durables retailer.
According to the interim financial accounts released to the Colombo Stock Exchange (CSE) this week for the January-March quarter, Singer group reported earnings of Rs.159.9 million or Rs.1.28 a share, a 53 percent decrease on a recurrent basis.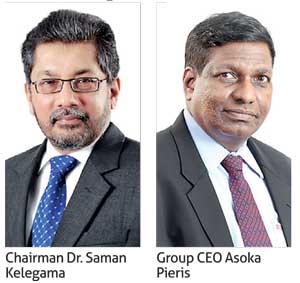 However, earnings per share was just 40 cents when adjusted for the recent share subdivision of 1 for 3.
The total quarterly earnings nevertheless fell by 80 percent year-on-year (YoY) when a comparison is made including the one off gain on bargain purchase made during the corresponding quarter in 2016, which amounted to Rs.443 million.
Meanwhile,for the quarter under review, the top-line advanced by a moderate 14 percent to Rs.12 billion from a year ago.
The company said they observed a sluggish consumer demand during the period stemming from the recent drought, which impacted the agricultural community, and eroded their incomes.
"Recent drought conditions, combined with the currency devaluation, increased Value Added Tax (VAT) and higher interest rates all contributed to the early part of 2017, experiencing less buoyant trading conditions than recent years", Singer Sri Lanka Group Chief Executive Officer, Asoka Pieris said in an earnings release.
Profitability of all business segments such as consumer electronics, financial services, furniture, home appliances and sewing narrowed but the top-lines increased moderately in each business segment except in sewing.
The company said its traditional and thrust product lines experienced good growth as smart mobile phones sales grew by 56 percent, televisions by 27 percent, deep freezers and furniture by 22 percent each and computers by 18 percent.
Singer expects the current weaker trading conditions to improve gradually during the remainder of the year.
But prospects for such hopes remain bleak as the inflation is at multi-year highs and the private sector credit growth has continued to remain strong prompting the situation to be arrested sooner by the authorities.
Substantial amount of Singer's sales are made on hire purchase but the Central Bank has vowed to contain consumption-driven credit as such has destabilized the economy.
Meanwhile, Singer Sri Lanka's the net finance cost rose by as much as 45 percent YoY to Rs.433.7 million both as a result of rising interest rates and substantial increasees in short-term borrowings.
The effective income tax rate almost tripled to around 60 percent during the 12 months to March 31, 2017.
After gradually shedding its stake, Singer Sri Lanka parent, Retail Holdings (Sri Lanka) BV held 71.19 percent stake in the company by March 31, 2016.
It appears that main foreign investors such as Ruffer, Pemberton, Russell, RWC Frontier Markets, CLSA Global Markets and Stephen Lee LafranceJr have bought the sold-down shares from the promoters.