---
The sluggish consumer demand dented the sales of Nestlé Lanka PLC, while the prolonged drought pushed up the costs impacting the consumer food maker's bottom line, the interim results filed by the company with the Colombo Stock Exchange showed.
Nestle Lanka PLC saw its sales for the March quarter sliding by 3.8 percent to Rs.9.4 billion while the net profit fell sharply by 32.4 percent to Rs.862 million from a year ago.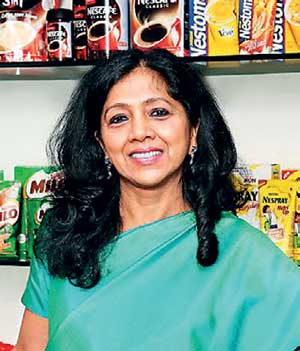 The earnings per share dropped to Rs.16.04 from Rs.23.74 recorded for the corresponding quarter a year earlier.
"Severe drought leading to depressed consumer demand, and a significant increase in raw material costs, has made the start of this year particularly challenging", said ShivaniHegde, Nestlé Lanka Managing Director in an earnings release.

Meanwhile, the company's finance cost rose by a staggering 181 percent year-on-year (YoY) to Rs.12.1 billion.
Bank overdrafts and other short-term finance rose from just Rs.312.8 million to Rs.1.9 billion during the last 12 months while the market interest rates also rose sharply.
Nestlé Lanka, one of the largest exporters of coconut milk powder, was also hit hard by the sky-high coconut prices in Sri Lanka. The price of a coconut reached Rs.85 recently in the local market, the highest in the history in a country, which cultivates coconut for centuries.
Coconut growers have been grumbling that the local demand affects their exports negatively. For decades, vast coconut lands have been cleared for dwelling and industrial purposes by land developers but successive governments have cast a blind eye towards this.
Coconut was among the three major agricultural exports of Sri Lanka. But all the major three export crops—tea, rubber and coconut—are currently facing numerous challenges. Lack of long-term policy remains a major issue.
To minimize the impact from these developments, Nestlé Lanka recently launched a coconut development programme in collaboration with the Sri Lanka Coconut Cultivation Board, through which the company donated 10,000 coconut plantlets to 2,000 coconut-farming families, and developed two model coconut farms to showcase best practices. Nestlé Lanka, the local unit of the Switzerland-based food and beverage giant, is also the largest private sector collector of fresh milk in Sri Lanka.
As of March 31, 2017, 9.18 percent stake in the company was held by the public, consisting of 5, 321 shareholders, while Nestle S.A Switzerland held the balance stake.