---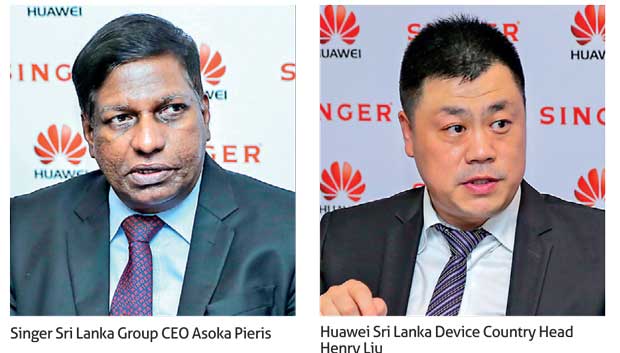 Singer Sri Lanka PLC, the country's leading retailer and distributor of branded consumer durables and Huawei, the leading smartphones brand in Sri Lanka, recently celebrated the success of five years of partnership together.
Singer Sri Lanka is the exclusive national distributor for Huawei smartphones and other accessories for Sri Lankan smartphone users.
The partnership between the two companies was cemented in the year 2012 and Singer has been influential in boosting Huawei and its products across the country reaching a larger number of customers through its widely spread distribution network.
Huawei reached the milestone of being the second largest smartphone brand in the country by the year 2015 as a result of the fruitful partnership with Singer. The Singer smartphone business was strengthened with the association of the Huawei brand and helped to grab the attention of smartphone users of all walks of life.
Commenting on Singer's five-year business partnership with Huawei, Singer Sri Lanka Group CEO Asoka Pieris stated, "We are delighted to have partnered with Huawei for the past five years and to be a success. Huawei has made a name for itself in a very short period of time and Singer has also become the major smartphone seller in Sri Lanka."
The extent of trust and continued marketing strategies to ensuring that Huawei marks its brand across the nation was proved when Singer crossed the Rs.1 billion mark of Huawei smartphone sales in December 2016. Singer was also instrumental in propelling Huawei's market share to over 30 percent by end-2016. Huawei now aims to achieve a 50 percent market share in Sri Lanka by end-2017.
Commenting on Huawei's growth, Huawei Sri Lanka Device Country Head Henry Liu said, "We thank Singer Sri Lanka, our national distributor, for their continuous partnership with us and helping Huawei to gain the hearts of Sri Lankans. The partnership has also contributed us to become one of the most favoured smartphone brands of choice in Sri Lanka and the fastest growing smartphone globally."
In 2016, Huawei invested 14.6 percent of the revenue in R&D, totalling CNY 76.4 billion. Total R&D spending, over the past decade has reached CNY 313 billion resulting creating endless vibes in the local smartphone industry by introducing flagship product series such as HUAWEI P10 and P10 Plus turning around the smartphone business landscape in Sri Lanka. Huawei's substantial investment in R&D over the years has resulted in a large number of high-value patents. Recently Huawei was listed in the prestigious Forbes 100 Valuable Brands adding another milestone to the brand's success. Huawei Consumer Business Group announced that in 1Q 2017, it shipped 34.55 million smartphones, this amounts to a year-on-year increase of 21.6 percent. According to IDC, Huawei's global smartphone market share further increased to 9.8 percent, consolidating its position in the top three smartphone vendors in the world. Huawei was also listed again on Interbrand's list of 100 Best Global Brands 2016, ranking 72nd. Meanwhile, Huawei ranked 50th on BrandZ's Top 100 Most Valuable Global Brands list.
Singer has been in the forefront offering the widely acknowledged benefits of Huawei smartphones whilst extending the distribution to almost every major town in the country to suit all types of budgets – from the entry levels to the high end users. Currently customers are able to purchase Huawei smartphones from over 2000 sales outlets including 400 Singer outlets and 1600 Singer Digital Media networks spread islandwide.