---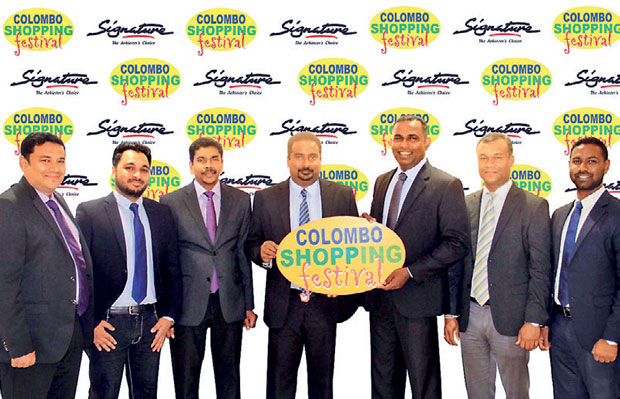 From left: Hameedias Retails Sales Manager Rameez Mohamed, Human Capacity Development Manager Hana Saleemdeen, Sales Manager M.T.M Munas, Signature General Manager Indika Perera, Aitken Spence Conventions and Exhibitions Assistant Vice President Anil Hapugoda, Assistant Manager Madhawa Wijeratne and Senior Operational Head Roshan Krishnanalan
Colombo Shopping Festival, the most awaited shopping extravaganza is ready to bring an unmatched experience that shoppers will never forget from December 16th to
23rd at BMICH.

The biggest shopping gala in the upcoming Christmas season is organized by Aitken Spence Conventions and Exhibitions in collaboration with 'Signature Brand', a household name for quality men's readymade garments in Sri Lanka.

With the number of visitors easily crossing 80,000, the 'Colombo Shopping Festival' is a star attraction in the festive season every year, and is getting bigger. More than 400 local and international exhibitors will showcase all sorts of goods, including garments, baby products, international products, fashion accessories, cosmetics, electronics, kitchenware, household items, toys, bed and linen, perfumery and so on. The foreign exhibitors will include retailers from India, Pakistan, Bangladesh
and more.

Among hundreds of retailers, the official men's garment partner of the event, 'Signature Brand' will showcase their quality product line at a massive stall which will cover a floor area of 400 square-metres, highlighting their presence at the biggest shopping fiesta of the year.

Signature is a trend-setting brand in the Sri Lankan fashion industry which is also actively involved in business, sports, education and leisure. It has added style and glamour to a number of popular events and units while stamping its presence in a range of sectors. This includes being the official clothing partner for Sri Lanka Cricket for a period of three years, giving an exquisite look for the cricket stars under the name of 'Players fit' as well as becoming the official garment partner of world class events in the calibre of Colombo Shopping Festival.

The Signature product range which meets highest international standards, will add more colour and an international touch to this truly world-class shopping festival throughout the eight-day period.
Apart from being a shoppers' paradise, the festival will also have designated kiddies play area and food courts for the convenience of visitors.

With the capabilities and all the experience as Sri Lanka's leading exhibitions and conference management establishment, Aitken Spence Conventions and Exhibitions is all set to bring you the biggest ever shopping festival Colombo has ever seen, with the able backing of one of the biggest names in the country's fashion industry,
'Signature Brand'.