---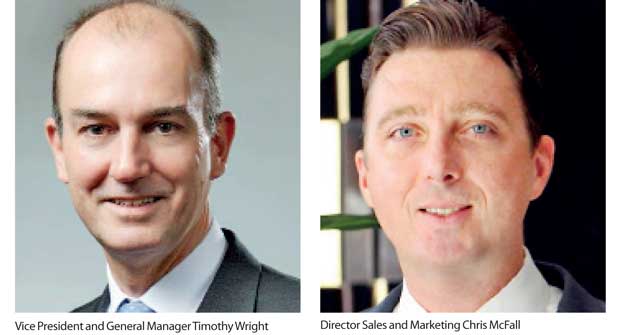 Shangri-La Hotels and Resorts announced the appointment of Timothy Wright as Vice President and General Manager and Chris McFall as Director Sales and Marketing for Shangri-La Hotel, Colombo due to open during the second half of 2017.
The hotel will be the second property in Sri Lanka for the leading Asian hospitality group, joining Shangri-La's Hambantota Resort & Spa, which opened in June this year.
Wright brings with him over 30 years' experience in the hospitality industry, including senior management positions within Shangri-La Hotels and Resorts. He joined the Hong Kong-based group in 1993 as part of the Events team, before joining the Food and Beverage department and becoming Hotel Manager for Shangri-La Hotel, Singapore.
His most recent assignments include General Manager positions for Traders Hotel Singapore (now Hotel Jen); Shangri-La's Eros Hotel, New Delhi; Shangri-La's Mactan Resort & Spa, Cebu; Shangri-La Hotel, Bangkok; Shangri-La's Rasa Ria Resort & Spa, Kota Kinabalu and Kowloon Shangri-La, Hong Kong.
As one of the group's most trusted leaders, he was then appointed as Group Director Human Resources in January 2014, joining Shangri-La Hotels and Resorts corporate team in Hong Kong. British born Wright studied hotel management in London.
Wright will be responsible for the management of the 500-room property and 41 serviced apartments and oversee all the operations within the hotel. His remit also includes overlooking the operations for sister property, Shangri-La's Hambantota Resort & Spa, Sri Lanka as well as Shangri-La's two properties in India.
Commenting on his appointment, he enthused, "I am thrilled to be leading our latest venture in Sri Lanka bringing Shangri-La's renowned hospitality and blending it with the Sri Lankan culture to create exceptional locally inspired experiences for our guests. It is also a unique opportunity to help develop a new generation of tourism talent in Sri Lanka as our hotels are fully integrated into the local community from the very beginning, offering development programmes and
employment opportunities."
A team of experienced leaders will support Wright in his mission, including Chris McFall, who has been appointed Director Sales and Marketing for Shangri-La Hotel, Colombo. With more than 20 years' experience in hospitality in the UAE, UK, Switzerland, the US, Thailand and South Africa, British born Chris McFall brings a wealth of knowledge to the hotel. His most recent role was with Jumeirah Group, as Director Sales and Marketing for Jumeirah Creekside Hotel, Dubai. Prior to this, McFall was Group Director Sales and Marketing for Abjar Hotels International, hotel owning company, overlooking the sales and marketing strategy for nine properties in Dubai, and Cluster Director Sales and Marketing for four hotels in Dubai within Accor Group.
His first foray into hospitality was at the SHA Hotel Management School Les Roches, in Switzerland. Introducing a new level of luxury in Colombo, the Shangri-La hotel will feature 500 guestrooms and suites and 41 serviced apartments, offering a personal sanctuary befitting a tropical escape in the city. Situated in a prime waterside location with uninterrupted views of the Indian Ocean, Shangri-La Hotel, Colombo will be in the heart of the business district and part of a new lifestyle development including an office tower, two residential towers and a high-end shopping mall.
Unlocking a new social and dining scene in the city, the seven restaurants, bars and lounges will offer an uncompromising selection of local and international cuisine, al fresco dining, daily live entertainment, innovative menus and trendy destinations. The hotel will have the most extensive and versatile events venues in Sri Lanka with over 4,500 square metres of event space including two ballrooms, an outdoor area and several function rooms, which can host over 2,000 guests.