---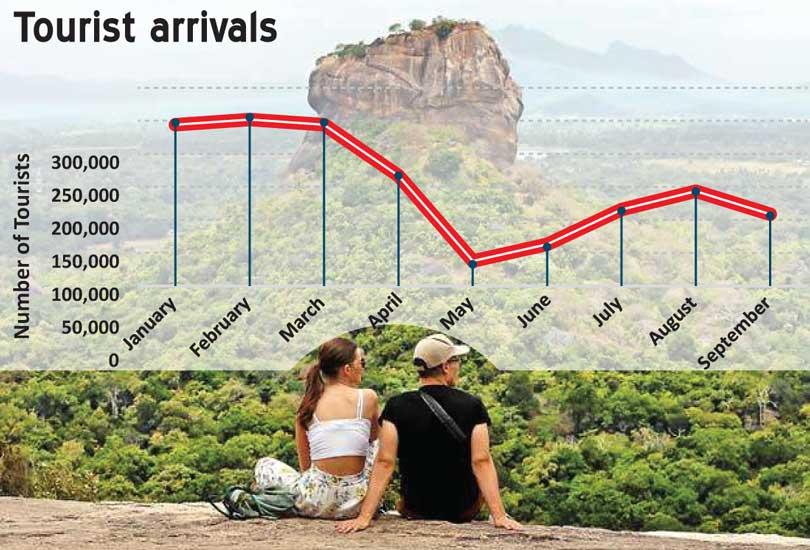 Arrivals down 24% MoM and 27% YoY
Cumulative arrivals hit 1.37mn, down 20%
Tourism authorities maintain 2.1mn arrivals target

Tourist arrivals in the month of September slowed 24.4 percent from a month ago to 108, 575, ending the three-month recovery streak that followed Easter Sunday attacks, according to data released by the Sri Lanka Tourism Development Authority (SLTDA).
Compared to September 2018, arrivals fell 27.2 percent, marginally down from 28.3 percent in August.
Following Easter Sunday attacks, tourist arrivals slumped to record low of 37,802 in May. However, since May, tourist arrivals have gradually picked up.
In August, Sri Lanka welcomed 143,587 tourists to the country backed up Esala Perahera and the International Bohara Convention held in Colombo. The Bohara Convention estimated to have brought over 20,000 tourists to Sri Lanka in August.
The tourism authorities were targeting to attract 150,000 tourists to the country in September.
The SLTDA said the largest source market for tourists in September was India, followed by China and the United Kingdom.
Tourist arrivals in the first nine months of the year fell 20.5 percent year-on-year to 1, 376, 312. The SLTDA maintains the annual projection of 2.1 million tourists for the year despite the unexpected drop in tourist arrivals in September.
Sri Lanka will have to attract over 720,000 tourists during the remainder of the year to achieve the target while recording 20 percent compound annual growth during the three months.
The industry was lobbying for a comprehensive PR and recovery marketing campaign to support the tourism sector following the Easter Sunday attacks.
However, so far, the tourism authorities have been able to launch only a three-month TV campaign on CNN.