---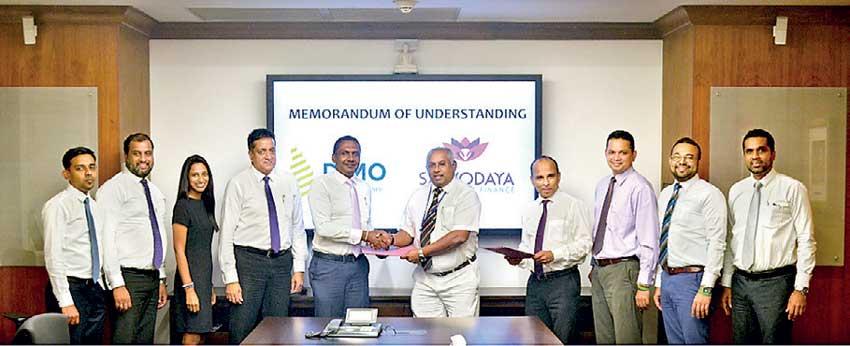 Sarvodaya Development Finance Chief Executive Officer Nilantha Jayanetti and SDF team (left) with DIMO Group Chief Executive Officer Gahanath Pandithage and DIMO team (right)
Accelerating post-COVID-19 economic recovery, Sarvodaya Development Finance (SDF) renewed its MoU with DIMO, covering a wide range of agriculture machinery products through its comprehensive leasing solutions, to support local farming communities.

The agreement between SDF and DIMO was envisaged to facilitate access to modern agriculture equipment for Sri Lankan farmers, while enhancing their productivity and profitability. As a majority of Sri Lankan farmers cannot afford outright purchase of modern agricultural equipment, SDF developed a lease financing scheme, in partnership with DIMO, to bring agricultural equipment within the reach of farmers.

The initial agreement paved the way for Sri Lankan farmers to acquire high-quality Mahindra tractors from DIMO through a concessionary leasing scheme of SDF. The scheme was an immediate success, with strong demand maintained in 2020, despite the COVID-19 containment restrictions across the island. SDF notes with pride that many farmers in the country's main agricultural regions of Anuradhapura and Ampara took this opportunity to benefit from SDF's leasing arrangement, when purchasing Mahindra tractors from DIMO.

This intervention by SDF, to make mechanisation of farming affordable to local farmers, ensured continued livelihoods for farming communities during the pandemic year of 2020, while maintaining continuous supplies of essential food products for the rest of the country.
The renewed agreement between SDF and DIMO has expanded the product range that can be leased through SDF. SDF's latest financing scheme is now applicable for all tractor models of Mahindra and Swaraj, which are offered with DIMO trust.

CLAAS Harvesters and Lovol Harvesters from DIMO are other products that covered through this leasing agreement, which will enable the local farmer community to access the latest technology in the agriculture sector for an affordable price.

Under this scheme, DIMO and SDF will provide an array of attractive benefits for customers. SDF will extend an attractive special repayment scheme for customers who purchase Mahindra tractors, Swaraj tractors, CLAAS Harvesters and
Lovol Harvesters.

SDF will also provide a unique set of benefits to all new customers who purchase under this scheme and will offer an attractive down payment from the total tractor value during the Yala season.

In addition, customers will receive a free Farmers Kit, free oil filters for two years and three free services for all Mahindra and Swaraj tractors and three free services for CLAAS and Lovol combine
harvesters from DIMO.

DIMO also provides a comprehensive two-year warranty for all Mahindra and Swaraj tractors and a comprehensive one-year warranty for the CLAAS Harvesters and a six-month warranty for
Lovol Harvesters.

This unbeatable offer reflects SDF's commitment to support Sri Lanka's agricultural revival during the current period of post-COVID recovery. As the financing arm of the Sarvodaya Movement, SDF holds a unique track record as the financier to grass roots entrepreneurs and maintains 80 percent of its branches outside the Western province to channel finances into rural communities.