---
Sri Lanka is currently facing a shortage of sand and granite essential for the construction industry, spiralling the construction costs upwards, Tokyo Cement Company (Lanka) PLC (TKYO), the country's largest cement manufacturer and supplier, said.
"The shortages of key raw materials, such as sand and aggregates, put additional pressure on the overall industry prices," TKYO Managing Director S.R. Gnanam said.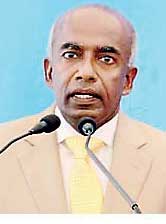 He said restrictions on river sand mining and sand transport licences curtail the supply of the sand to the market and the Port City project is absorbing most of the immediately available granite rock in the country.
"Overall, the construction industry saw the cost structures spiralling upwards during the year," Gnanam said, stressing that shortages of raw materials add to the pressures of uncertain local tax policies and developments in the external sector.
Sri Lankan construction costs are already considered one of the highest in the South and Southeast Asian regions.
In order to address the shortfalls in sand supply, TOKY last year set up a plant to manufacture sand, which the firm says it will expand, in order to address the rising demand for its ready-mix concrete products.
Despite the escalating construction costs, TOKY is expecting construction in the country to continue to expand in the future.
TOKY Chairman Dr. Harsha Cabral said that the government infrastructure projects such as the Megapolis Project, Central Expressway, Port City, expansion of the Southern Expressway and Phase III of the Outer Circular Highway, in addition to the development of apartments, housing, commercial spaces and hotels, would drive construction growth.
Construction made up 7.6 percent of Sri Lanka's economic activity in 2016, up from 6.9 percent in 2016. The local arm of the real estate consultancy giant Jones Lang LaSalle Incorporated (JLL) recently said that Sri Lanka's construction to gross domestic product is low compared to the countries at similar development levels. (CW)