---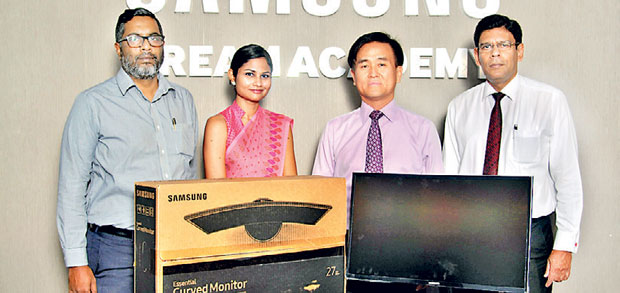 From left: Mohamed Feroz - Head of Enterprise Business, Nilani Rajapaksa - Deputy General Manager Samson IT, Youngmin Shin - Managing Director Samsung Sri Lanka, Ravi Jayasekara - Managing Director Samson IT
Samsung Electronics recently launched their new and innovative Samsung curved monitor in the Sri Lankan market.
Curved screens as a concept is no longer a trend and is considered the standard for a better, more comfortable viewing experience, says Youngmin Shin Managing Director of Samsung Sri Lanka.
Shin adds that the Samsung curved monitor has met with considerable interest and acknowledgement in the global ITindustry: many leading IT media outlets have already opted to recommend the Samsung curved monitor to their audiences, which confirms the fact that the monitor surpasses market standards for performance, presentation and value, he reiterates.
Samsung curved monitors are available in 24" and 27" sizes and are equipped with IPS Technology, which ensures a better viewing experience and an enhanced field of vision. The curved screen boosts the natural field of vision and provides the viewer with an immersive experience, making it less stressful on the eyes. The curved monitor comes in eye saver mode and is flicker-free for a viewing experience that does not strain the eyes.
Samsung Sri Lanka has appointed Samson IT as the sole distributor for Samsung monitor in Sri Lanka. Samson IT maintains a strong island-wide coverage and is able to provide much needed after care in partnership with Samsung Sri Lanka, confirms Shin.
Samsung's superior picture quality and vibrant color capture enhances the curved experience and presents greater representation of colors such as deep blacks, enabling better viewing, he adds. " For gaming requirements, there is the AMD Free Sync feature and a game mode which impacts the gaming experience. The curved monitors from Samsung presents incredibly advanced technology on your desk."
The Samsung curved monitors are super slim in design and are sleek in appearance, providing an over-all experience of accessible high tech capability for everyday usage. Whether for home use, gaming or in an office environment, Samsung curved monitors present an unmatched viewing experience to consumers everywhere, added Shin.