---
Sampath Bank emerged largely unscathed from the pandemic-induced challenges in the three months ended December 31, 2020 (4Q20), although the lender reported lower top and bottom lines due to slower growth in loans, payment holidays on loans and narrow margins.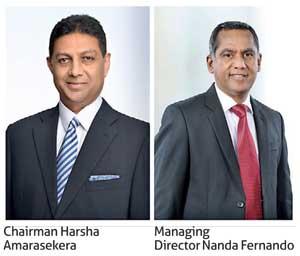 Sri Lanka's third largest private lender with assets of Rs.1.1 trillion reported Rs.8.6 billion in net interest income for the October-December quarter, down 26.2 percent year-on-year (YoY).
The bank's loan book grew by Rs.6.1 billion during the quarter, accelerating from the previous quarter, but churned out only Rs.39.3 billion in net loans during the entirety of the year, as pandemic-induced challenges gutted business incomes and thereby the repayment capacity of borrowers.

The bank ended the FY20 with a total loan book of Rs.758.9 billion.
However, the bank improved its asset quality measured by the gross non-performing loan ratio to 6.30 percent, better than 6.37 percent in December 2019. Meanwhile, the bank provided Rs.1.0 billion as impairments, less than half of what it provided in the same period in 2019, while the provisions for the entire financial year were lower than what was provided in 2019. This was despite the bank downgrading, "the customers operating in elevated risk industries on prudential basis from Stage 1 to Stage 2 and recognised a substantial provision to account the potential risk".

The payment holidays mandated by the Central Bank twice in April and October, other moratoria extended by banks on their own accord and the liquidity support extended at extremely concessionary rates backstopped borrowers from defaulting while helping the banking sector to preserve its asset quality.

Meanwhile, the deposits soared by Rs.40.6 billion during 4Q20 with cumulative deposits of Rs.168.4 for the year, which put the total deposit base of the bank at Rs.885.7 billion.

This large deposit base also weighed on the bank's net interest income, as it had to service interest while the corresponding assets were lagging. As a result, and also due to the faster decline in rates in the economy, the net interest margin fell to 3.3 percent from 3.46 percent in September and from 4.46 percent in December 2019.

Sampath Bank recently announced a Rs.6.0 billion debenture to bolster its capital, so that it could accelerate lending as envisaged in 2021.

Fee and commission incomes during the quarter fell by 7.6 percent to Rs.2.63 billion from the same period last year.

The bank reported earnings of Rs.8.46 a share or Rs.3.23 billion compared to Rs.12.84 a share or Rs.4.89 billion in the corresponding quarter in 2019, a decline of 34.1 percent.
Sampath Bank share ended at Rs.165 yesterday, Rs.2.75 or 1.64 percent lower from the previous close.