---
Sampath Bank PLC reported earnings of Rs.12.81 or Rs.2.39 billion for its January - March quarter (1Q17), a 29.6 percent jump from a year ago, but the margins slightly narrowed amid rising cost of funds.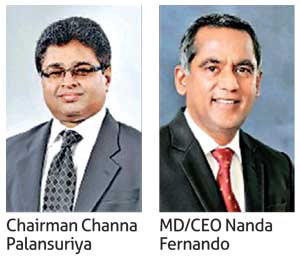 The performance was supported by the stronger growth in loans, fee and commission income but the provisions made on possible bad loans and non-performing loans slightly increased.
According to the interim results filed with the Colombo Stock Exchange, Sri Lanka's third largest private lender by assets gave a massive Rs.30.3 billion loan during this quarter, which is an increase of 6.5 percent.
If annualized, the bank will end up giving more than Rs.120 billion loans with a growth of 26 percent expansion in credit by the financial year end, which is far higher than what the Central Bank wants.
In 2016, the bank grew its loans and receivables by Rs.81.3 billion or Rs.21.1 percent.
The Central Bank said the desired level of private sector credit growth is 15 percent for 2017 although some of the independent analysts at the beginning of the year put the number to around 10 - 12 percent as being more conservative.
But in reality, no bank has developed their budget with less than a minimum of 18 to 20 percent of growth in their loan portfolio for the year. If materializes, 2017 will also mark the year with the highest credit growth. In 2016, Sri Lanka's banks gave out a record Rs.755 billion in private credit, surpassing the previous record of Rs.692 billion in 2015.
Sampath Bank on a standalone basis has a loans and receivable book of Rs.496.2 billion. Total assets grew by 5.1 percent to Rs.692.1 billion by March 31.
The bank saw its Net Interest Margin (NIM) slightly narrowing down to 3.81 percent from 3.87 percent in December 2016 as the cost of funds has been on the rise in response to higher interest rates.
However, the bank managed to maintain its low cost deposit base measured by the Current And Savings Account (CASA) ratio at slightly above 38.3 percent.
The total deposits grew by Rs.27.8 billion or 5.5 percent to Rs.537.5 billion. The net interest income grew by 35.5 percent year-on-year (YoY) to Rs.6.7 billion.
The net fee and commission income rose by 33.3 percent YoY to Rs.1.99 billion. The specific provisions against possible bad loans rose to Rs.462.7 million from Rs.87.8 million a year ago. Gross non-performing loan ratio ended up to 1.73 percent from 1.61 percent in December 2016.
Tier I and Tier II capital adequacy ratios slightly weakened to 7.68 percent and 11.93 percent, respectively, from 8.31 percent and 12.87 percent.
Business magnate, Dhammika Perera controls 14.95 percent stake in Sampath Bank through his Vallibel One PLC while the Employees' Provident Fund holds 9.97 percent stake being the third largest shareholder.