---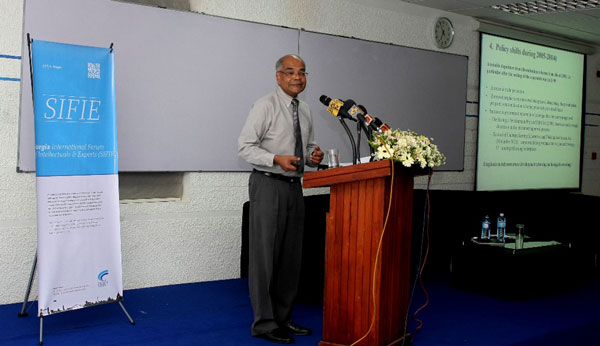 Saegis Campus, which recently launched an innovative programme titled 'Saegis International Forum of Intellectuals and Experts (SIFIE)', held its inaugural lecture recently at the Saegis auditorium in Nugegoda.

The objective of SIFIE was to create an environment for intellectuals and experts from Sri Lanka to share their knowledge and expertise through seminars, lectures and workshops and provide opportunities to academics, students, professionals and members of the public to enhance their knowledge and skills to understand the contemporary issues and developments both in Sri Lanka and rest of the world. Through this forum, Saegis Campus will invite scholars and experts of Sri Lankan origin who are living and serving in foreign countries to visit Sri Lanka and impart their knowledge to the betterment of Sri Lanka.

The inaugural lecture titled 'Sri Lanka's Post-Conflict Development Challenge: Learning from the Past' was delivered by eminent scholar, international adviser and Chair of Economics at Australian National University (ANU) Professor Prema-Chandra Athukorala.

It was attended by a large audience that comprised mainly of economic researchers and experts. The moderator of the session was Professor Samson Ekanayake, Professor of Accounting and Finance and Deputy Chairman and CEO of Saegis Campus.

The lecture focused on the issue of economic reforms for sustainable growth in Sri Lanka during the post-conflict period against the backdrop of Sri Lanka's post-independence development experience and the current global economic outlook. According to Professor Athukorala, the past governments failed to reap the benefits of trade liberalization by adopting misguided policies. As a result, the policy options faced by the present Sri Lankan government are not easy. According to him, "There are no convenient policy options. Averting a debt crisis without hindering the long-term growth prospects of the country is really
a challenge."