---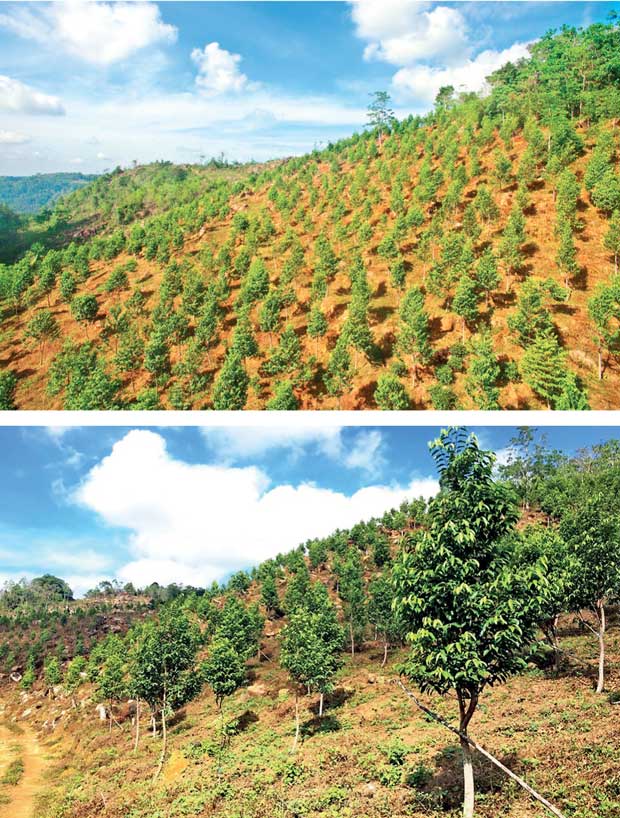 A unique opportunity has opened for land owners in the low country wet zone area where the climate is conducive to commercial forestry.
Sadaharitha Plantation, the undisputed leader in commercial forestry in the country invites landowners with over five acres to invest, especially in the districts of Kandy, Kurunegala, Kegalle, Ratnapura, Galle, Matara, Colombo, Gampaha and Kalutara, to team up with the Company and reap a remarkable harvest in return.
The offer from Sadaharitha is most attractive. The Company will provide free saplings to plant, as well as free technical support and free advisory services including the Company's patented 'CA Kit' that helps Agarwood trees to develop the resin that is greatly sought-after by top-rung perfume manufacturers in the world.
Once a landowner signs a memorandum of understanding and enters into a joint venture with Sadaharitha Plantations, the advantages that are in store for the investor includes the value of the land increasing considerably, together with a high return on the investment in the period of eights years as the Company will help to harvest the forest as wellas utilize the export potential of the harvested resin to the maximum.
"This venture came at the request of several investors of Agarwood forests who see the potential commercial forestry has for Sri Lanka. At Sadaharitha, we have our own forestry lands, yet the production will not be enough to cater to the demand in the international market. Therefore we are confident that landowners with lands in the low country-wet zone areas will welcome this lucrative opportunity that helps to promote a clean and healthy country in an environmentally- friendly manner while boosting Sri Lanka's economy," said Chairman of Sadaharitha, Sathish Navarathna.
Sadaharitha Plantations is the only company in the country with expertise and passion to promote commercial forestry. It has over 2000 acres of forestry with over 26,000 customers and will soon be celebrating 15 years of establishing the business of commercial forestry in Sri Lanka.