---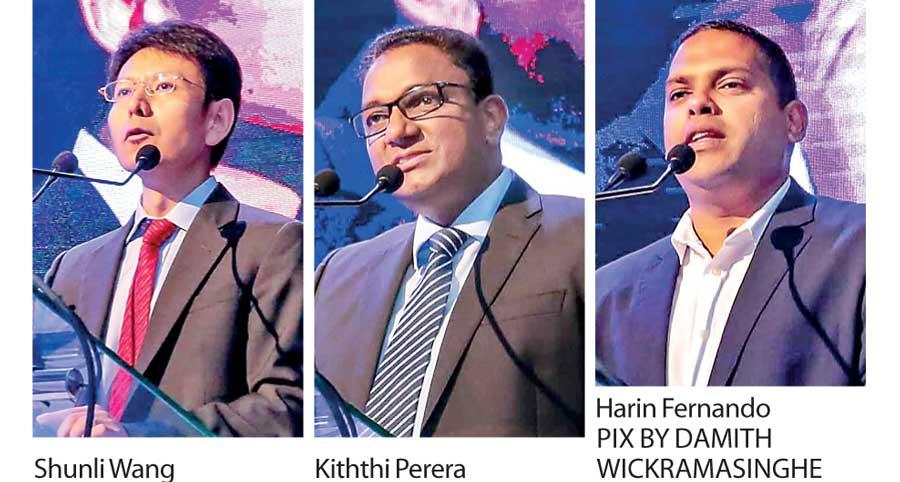 Sri Lanka Telecom (SLT) to partner with Huawei to take up on the Smart City project at Colombo Port City with an aim to position Colombo Port City as Southeast Asia's premier smart city.

"We are collaborating with Huawei to work on the Smart City project at Colombo Port City and we believe that there's lot of value that Huawei can bring us," SLT CEO Kiththi Perera announced.

He made this announcement yesterday addressing Huawei Lanka ICT Congress 2019, in Colombo. SLT plans to develop and implement the digital backbone and smart solutions for Colombo Port City, with an ambition to elevate it to be Southeast Asia's premier smart city.

Huawei Sri Lanka CEO Shunli Wang speaking at the event said Huawei is looking forward to partnering with the government and telecom operators of the local market to make the digital transformation happen.
"As a strategic partner to SLT, we are awaiting to provide the best solutions and ideas to help SLT in its business development.

Colombo Port City is one part of our discussion," he said.

Wang noted that as smart cities require a lot of talent from various industries, the smart cities will create attractive job opportunities for high-skilled Sri Lankans to retain in the country.

Huawei has already assisted over 120 cities in over 40 countries and regions to implement various smart city projects.

In providing a glimpse into Huawei's smart city solution, Huawei Marketing Operation Director Network Energy Xiaoxin Song said that Huawei's smart city solutions are mainly built around Internet of things and artificial intelligence (AI), while emerging technologies are also utilised as per the requirement of the city.

"AI is the next core technology that will be used on large scale on the digital platform. AI drives smart city development with data, algorithms and processes," he said.

He identified that the top leadership, strong execution teams, industry leading digital partners and solid investments as crucial factors for the success of smart city projects.

Perera stressed that in order to facilitate the digital transformation of the country, an effective programme to change the culture or mindset of the citizen of the country is also essential.

He pointed out that over 70 percent of projects related to digital transformation fail due to lack of emphasis on cultural aspect in digital transformation.

SLT also plans to develop smart solutions to several segments in the government, including health, education and utilities.

"We are expanding and we are bringing critical platforms: smart education through school network and smart health by connecting all government hospitals. We are also talking to the Power and Energy Ministry to establish a smart grid and smart metering project," he elaborated.

Huawei officials have already expressed interest in partnering with SLT in these projects to support digital transformation in Sri Lanka.

While affirming the government's confidence on Huawei as a trusted and guided partner, Telecommunications, Sports and Foreign Employment Minister Harin Fernando said that Huawei is equipped with cutting-edge latest technology to assist economies such as Sri Lanka through its digitalisation journey. He expects that digitalisation will transform the manufacturing, tourism and agriculture sectors in the country. Huawei CTO SEA Region Michael Macdonald expects that the global digital economy, which was valued at US $ 12.9 trillion, will nearly double to US $ 23 trillion by next year.

Huawei has been playing an active role in assisting local telco operators to deploy the Massive MIMO technology that plays a pivotal role allowing achieving greater spectrum efficiency, tripling the base station capacity and to provide a fibre-like experience for users.

The company is currently listed as number 72 in Fortune Global 500, with over US $ 108 billion in revenue in 2018.
(NF)