---
On Thursday, September 21, 2017, the Sri Lanka Institute of Directors (SLID) will chat with Anjana Reddy, who will be sharing her journey as a young fourth generation female entrepreneur who ventured out of the family business and successfully built three clothing brands and was named in the Forbes' magazine's 2017 list of 30 under 30.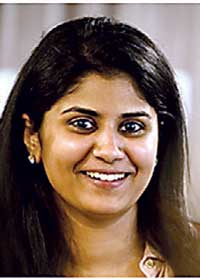 Reddy is the founder of Indian fashion company Universal Sportsbiz and is named as one of the top 30 e-commerce and retail entrepreneurs aged less than 30 years in Asia by Forbes magazine.
Her company boasts a clutch of celebrity-endorsed brands specializing in trendy clothing and accessories, including Collectabillia, Wrogn and Imara.

Her brands sell in more than 70 stores, as well as on e-commerce platforms like Myntra. Wrogn is co-owned by Indian cricket star ViratKohli, while cricket legend Sachin Tendulkar is one of the co-investors in Collectabillia.

Converting an idea into a reality (regardless of the required investment of time and money) is never an easy task. In fact, it is extremely difficult. Whether you are an entrepreneur or corporate executive, 'giving ideas life' is not easy.

You must own the responsibility regardless of the circumstances. No one will ever understand your idea or the dynamics associated with it like you do. In this regard, you are on your own and the journey will also require you to learn about yourself.

For more information on this event contact 2301646 – 8 or drop an email to [email protected]