---
Business magnate Dhammika Perera's tile monopoly, Royal Ceramics PLC (RCL), is considering investing in production facilities overseas due to the difficulties in sourcing raw materials locally.
"While importing the basic raw materials is not financially viable, the group is considering the option of having its products manufactured overseas if a cost-effective option can be found," RCL Managing Director Aravinda Perera said in RCL's annual report.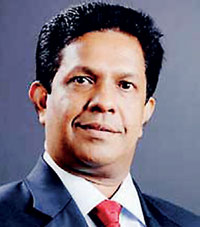 However, RCL spent Rs.1.2 billion to upgrade its production capacity in its factories located in Horana, Eheliyagoda and Homagama, last year.
Perera said strict government regulation on mining, the difficulty of obtaining licences for clay mines and regulations prohibiting the purchase of mining lands have led to the group's raw material sourcing subsidiary, Lanka Ceramic PLC, to encounter supply shortages.
"The group's answer is to ensure that Lanka Ceramics plays an active role in sourcing raw materials and in the future focus attention so that the company can from now on, invest in lands which can be mined for vital raw materials as time progresses," Perera added.
RCL with its group companies is believed to be controlling over 80 percent of the country's tile market. The previous Rajapaksa administration imposed excessive import duties on tile and bathware products, reportedly to protect the local manufacturers. This however deprives the consumers' ability to buy high-quality imported products at reasonable prices.
The current government has pledged to remove these tariffs but has so far failed to keep the promise.