---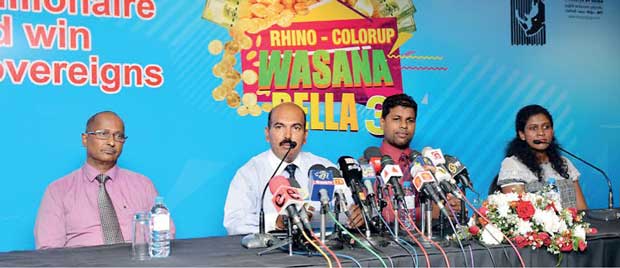 From left: Mahinda De Silva - National Sales Manager, Priyantha Jayasinghe - Group Marketing Manager, Thilina Gunathilake - Account Manager, Holmes Pollard and Stott, Prasadini Ileperuma - Brand Executive
Rhino Roofing Products Ltd., the manufacturers of chrysotile roofing sheets, offers a range of roofing and ceiling products. These include flat ceiling sheets under the Rhino brand name and corrugated roofing sheets (which are machine-painted for the first time in Sri Lanka) under the Colorup brand.
The company is pleased to announce a consumer competition 'Rhino ColorupWasanaRella 3' from June 1st to August 31st for the benefit of consumers.
Rhino Roofing Products Ltd.,has studied market fluctuations and is totally prepared to fulfil the roofing and ceiling requirements of Sri Lankan consumers. "It is up to us to create more enthusiasm among consumers in a market that has declined in the present context", said Group Marketing Manager, Rhino Roofing Products Ltd., Priyantha Jayasinghe.
Now an opportunity has been provided for even more winners through Rhino ColorupWasanaRella 3. It gives thechance for 3 lucky winners to become millionaires and for 50 others to win gold sovereigns. In the previous two WasanaRella competitions, motorcars were offered as prizes, but this time the company has decided to offer cash prizes so that the winners can successfully fulfil their housing requirements.
To enter this competition, all a customer needs to do is send a receipt of Rhino products amounting to Rs. 25,000 or more along with a correctly filled coupon by post or hand them over to coupon collection centres. For every purchase of Rs, 25,000, you will receive one coupon, so the more you purchase, the more coupons you receive and the greater your chances of winning.
As the opportunities for consumers to winare greater this time, the company requests all its dealers and carpenters to introduce and popularize Rhino products (which are manufactured to high standards and finish) among consumers utilizing their warm and friendly customer service.
Group Marketing Manager of Rhino Roofing Products Ltd., Priyantha Jayasinghe stated that their main objective is to penetrate the market deeply and encourage more consumer purchases. He said that they have spent so much on promotions with the intention of increasing sales and usage. This will result in enhanced customer satisfaction, and becoming a winner in the competition will lead to even greater satisfaction. "Through all theseinitiatives, our clear objective is to increase our market share and achieve our targets," he said.