---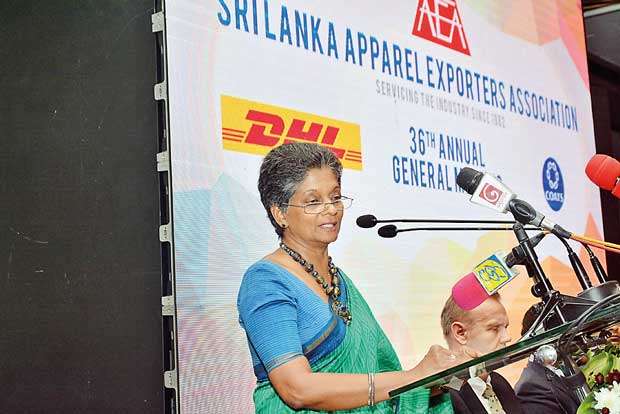 Indira Malwatte
Pic by Waruna Wanniarachchi
By Nishel Fernando
The government will be looking at further relaxing the rules pertaining to repatriation of export earnings to facilitate the country's exporters, said the former Export Development Board (EDB) Chairperson and Chief Executive Officer Indira Malwatte.

She said Development Strategies and International Trade Minister Malik Samarawickrama would consult Finance and Mass Media Minister Mangala Samaraweera to extend the required time for repatriation of export earnings, from the current 180 days.
She was speaking at the post-business session of 36th Annual General Meeting of the Sri Lanka Apparel Exporters' Association, held in Colombo, this week.

Malwatte pointed out that other countries have more liberalised rules in terms of repatriation of export earnings, where the exporters are only required to repatriate their earnings within 240 to 360 days.

She emphasised that Samarawickrama plans to reach a feasible and conducive repatriation arrangement, following the discussions with the finance minister.

Exporters have been lobbying for relaxed repatriation rules as long-term credit lines to buyers have become a norm in international trade.

However, Sri Lankan exporters face challenges in facilitating credit due to the current rules.

As a result, the competitors of Sri Lankan exporters tend to gain an edge due to more liberalised repatriation rules in their home countries.

Meanwhile, Malwatte also revealed that the EDB was able to arrange a meeting of three ministers in charge of the logistics sector, to sit down and discuss the implementation of National Export Strategy (NES) in the country's logistics sector.

Samarawickrama, Ports and Shipping and Southern Development Minister Sagala Ratnayake and Transport and Civil Aviation Minister Arjuna Ranatunga are expected to meet on February 1 to discuss the challenges in implementation of NES in the logistic sector.

Malwatte recently resigned from the EDB, following a directive issued by President Maithripala Sirisena asking all heads of state intuitions to step down.

However, last week, the Development Strategies and International Trade Ministry nominated Malwatte to be reinstated as EDB Chairperson.
According to sources, the nomination is pending ratification by Sirisena.