---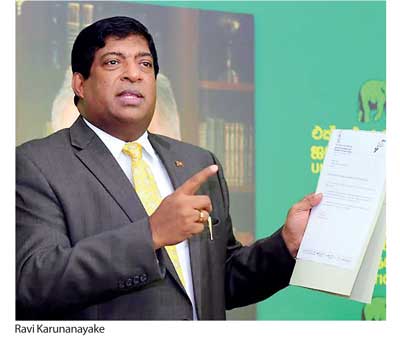 Finance Minister Ravi Karunanayake yesterday said the forthcoming budget 2017 is focused on rapid economic development through employment generation and bringing about prosperity to the lives of the people.

He also said that budget 2017 will receive a 2/3 majority in parliament. Minister Karunanayake expressed these views during a media conference held at the UNP Headquarters Sirikotha yesterday.

Similar to the previous year's budget, Karunanayake said the government included proposals of the people from the grassroots level as well as opinions of the scholars, professionals and other stake holders in preparing the budget 2017.
However, key elements of the previous year's budget have been either amended or unexecuted.

Analysts and economists opine that budget 2017 is likely to contain some proposals to appease the International Monetary Fund.
Some of these proposals, they say, will boost government revenue and hammer fiscal discipline but are at the risk of receiving public wrath.
Sri Lanka is currently in a US $ 1.5 billion loan programme with the IMF to bolster the economy's balance of payment (BoP) position.
Meanwhile Karunanayake said to reduce the debt burden on the government, Prime Minister Ranil Wickremesinghe had asked China to take over the Hambantota port in a manner that assists Sri Lanka to repay her massive debt obligations.

In response, China has decided to take over 80 percent of the port's management, he said. He noted that the Hambantota port alone has cost Rs.189 billion to the country's economy.
The minister expressed confidence in regaining GSP Plus trade concession from the European Union, which Sri Lanka enjoyed from 2001 to 2009.

The European Union withdrew the trade concession which were provided to Sri Lankan apparel to enter the European market with a duty advantage, due to the problems in the country's human rights record during the latter part of the war.

Prime Minister Ranil Wickremesinghe was recently in Brussels to present Sri Lanka's case to regain GSP Plus. Karunanayake said if the country practises good financial discipline, it will definitely get international assistance to go forward.
Meanwhile, commenting on the recent outburst of President Maithripala Sirisena, Karunanayake accused certain media of blowing it out of proportion and assured that the coalition government between President Sirisena and Prime Minister Wickremesinghe is strongly moving forward.