---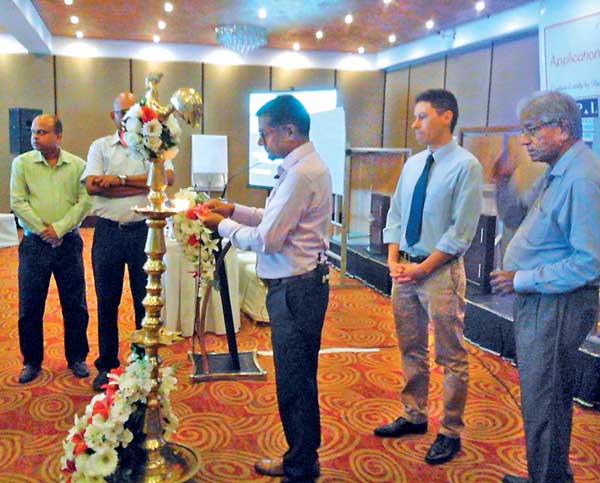 L to R : S.A. Hemantha – Factory Manager, Penthouse Interiors, Mahendra Wijeratne – Director/CEO, Mackply Industries, Sabir Ahamed – Global Sales and Marketing Manager, Raven Sealing Products (Global) lighting oil lamp, Neil Raven - Managing Director Raven Sealing Products (Global) and T. Ragunathan – Managing Director, Raniyo (Pvt.) Ltd
Raniyo Pvt. Ltd., conducted a seminar/workshop recently at Grand Monarch, Thalawathugoda for architects, designers, contractors, door manufacturers and other related industries to educate them on the need and advantages of using quality door seals and how to install them efficiently.

A team of specialists were on hand to provide expert advice to assist with developing the most suitable and cost effective solutions to even the most challenging problems.

Raven, an Australian brand that is 65 years old, is one of the most trusted brands in the building hardware industry, providing innovative, quality tested certified door and window sealing systems for the industry. Raven offers a range of door and window sealing systems for the containment of energy, and the exclusion of noise, fire, smoke, vermin, insects and dust.
Raven offers a comprehensive range of door and window sealing products to meet the demanding requirements of industrial, commercial and residential customers around the world.
Raven products are available for almost every door and window sealing need such as intumescent fire seals, smoke seals, noise – acoustic seals, dust & pest control seals, perimeter frame seals, door bottom seals, threshold seals, access & mobility threshold plates and brush strip seals. Raven Seals are designed to meet the most rigorous International Standards and Building Codes and are manufactured under ISO 9001 accreditation.

Chairman of Raniyo Pvt. Ltd. Ragunathan said, "as much as 65 percent of a home's total energy bill is used to cool the home – yet up to half of this conditioned air leaks out of the home due to poor door and window sealing. Air sealing is vital and can save money and energy, and help the environment all at the same time. It could save a homeowner or business up to 14 percent on cooling costs which all add up to a huge annual saving,"

Raniyo Pvt. Ltd., a company sourcing quality materials to the construction industry and Engineering works was started on 18th September, 1987. Since then, a continuous endeavor was made to bring under one roof some of the most reputed international brands.