---
The Alumni of the Postgraduate Institute of Management (PIMA) has made arrangements to commemorate the fourth death anniversary of Prof. Sudatta Ranasinghe, Senior Professor in Management of Open University of Sri Lanka, who was a distinguished alumni and a longstanding teacher of the PIM.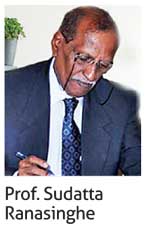 The memorial oration will be delivered by PIM Board of Management Director and Chairman and Institute of Personnel Management (IPM) Honorary President Prof. Ajantha Dharmasiri.
"Being one of his students, it gives me a sense of fulfilment in sharing the virtues of this truly remarkable teacher," said Prof. Dharmasiri.
The topic of the oration is 'Reinventing HRM as Paradox Navigation: Reflections on a Rewarding Renewal'. As a co-author of the last book of Prof. Ranasinghe titled 'HR Challenge', Prof. Dharmasiri will trace the transformation of the function of HRM and the emerging roles associated with it in the context of changing and challenging global environment.
The oration will be delivered at the PIM auditorium, No: 28, Lesley Ranagala Mawatha, Borella, Colombo 8, on Thursday, May 25, 2017, from 6:00 p.m. onwards.
PIMA invites all those who are interested to attend this significant event.