---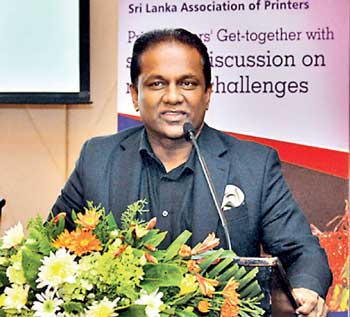 Deputy Speaker Thilanga Sumathiplala addressing the annual get-together of Sri Lanka Association of Printers, at Taj Samudra last week said that printing is an essential activity required to upgrade quality of life of people and it adds value to exports and marketing.

He prides himself to be a professionally qualified printer and still enjoys it, despite high demand on his time for various responsibilities. In the 80s, his father bought a brand new printing machine but today the machinery prices have sky-rocketed and only a few could afford them. If Sri Lanka to move along the path to become South Asia's printing hub, investment in new machinery is essential. When the country grows at four-percent GDP printing should also grow at same rate or more. He also offered to help the industry by being a link to high authorities to resolve their issues. He praised the SLAP on its activities as the only national body of printers.While answering a question from Sanjeev Mohan, Past President of the association, he said that printing being an industry it is wellbeing is the responsibility of the Ministry of Industries even though the print media goes under Media Ministry.

Dr. Lalith Mendis, a medical consultant from Empathetic Learning Center gave a presentation on how digital addition by young children has reached epidemical proportions. He explained how they become restless and impulsive because of high exposure to screen upsets their natural sleep cycle. The result is that children become easy prey to drug business and cited a recent incident where 40 school children were fond with illegal drugs in a city far away from Colombo. Long time exposure to screens upsets their study pattern and he explained why he is opposed to exposing very young children to tabs and similar electronic devices. He added that children should be encouraged to read printed books and write with pens on paper and it is a sure way to prevent Alzheimer.

SLAP President Ranjith Fernandosaid that even though printing does value addition to local industry but some companies turn to India to get their printing done, purely for cost saving. This trend is a serious threat to our industry. The government should consider granting tariff concessions to local industry so it could build competitiveness. purely on cost saving basisHe also felt that the cess imposed on ivory board, a multi-purpose board used from visiting cards to soft packaging, as irrational. Importing it does not affect any local manufacturing.

'Print Owners Get-together' is an annual event organized by SLAP and this year the project-chair was Delan Silva of Lakfoil. Dian Abeyewardene coordinated the event.