---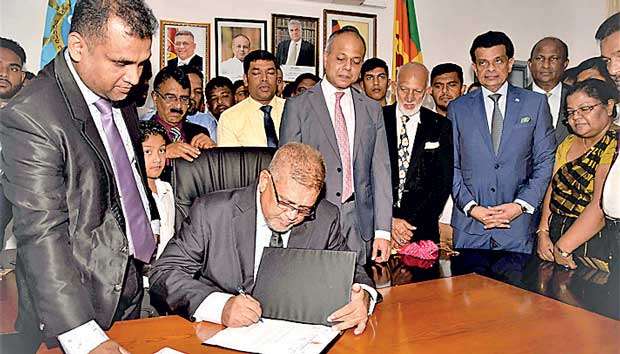 Ports and Shipping Deputy Minister Mohamed Abdullah Mohamed Maharoof assumes duties in the presence of Ports and Shipping and Southern Development Minister Sagala Ratnayaka and Ports and Shipping and Southern Development Ministry Secretary Dr. Parakrama Dissanayake
The newly appointed Ports and Shipping Deputy Minister Mohamed Abdullah Mohamed Maharoof assumed duties in his office, yesterday.

The event was held under the patronage of Ports and Shipping and Southern Development Minister Sagala Ratnayaka, at the ministry.

Ratnayaka asserted, "Deputy Minister Abdullah Mohamed Maharoof, who assumed duties in the ministry today and I joined Parliament as Members of Parliament in 2000. I am happy that we are going to work in the same ministry. I'm confident that I will always have his supports to elevate the development of
the ports."
Addressing the gathering, the deputy minister said, "I'm proud of my constituency, the Trincomalee District, where one of the most important natural ports in the world is located. I will ensure the developments of the port of Trincomalee. I will do my best to improve this port to the global standards."

Industry and Commerce Minister Rishad Bathiudeen, Parliamentarian Imran Maharoof, Ports and Shipping and Southern Development Ministry Secretary Dr. Parakrama Dissanayake, Sri Lanka Ports Authority (SLPA) Managing Director Captain Athula Hewawitharana, SLPA Managing Director D. Upali De Zoysa, SLPA Director Operations Jayantha Perera and several executive officers and employees of the SLPA, as well as representatives from the Eastern Province were present the event.