---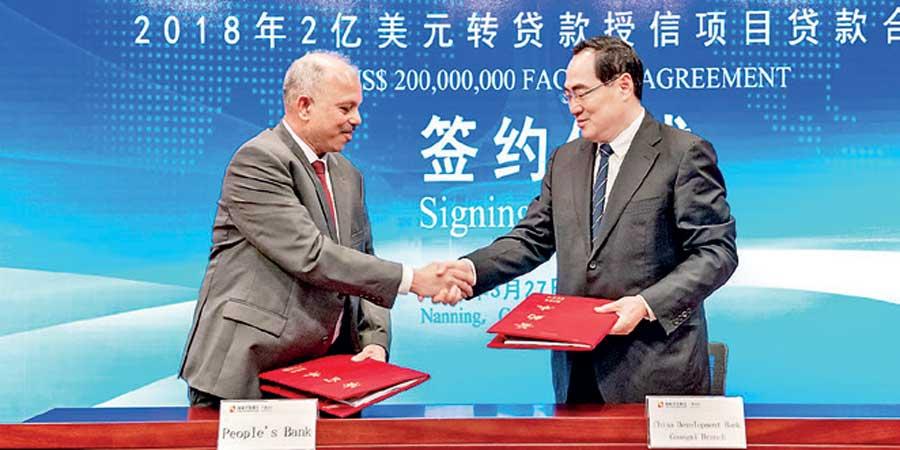 People's Bank Chief Executive Officer and General Manager N. Vasantha Kumar and China Development Bank Guangxi Branch General Manager Mei Shiwen exchange the facility agreement
People's Bank signed a landmark US $ 200 million, eight-year bilateral funding facility with China Development Bank, one of the largest ever and longest tenure funding facilities secured by any commercial bank in Sri Lanka.

The signing ceremony was held at China Development Bank's Guangxi branch in Nanning, People's Republic of China, recently.

People's Bank Chief Executive Officer and General Manager N. Vasantha Kumar and China Development Bank Guangxi Branch General Manager Mei Shiwen signed the facility agreement.
Thereafter, several rounds of discussions were held between the senior officials of People's Bank and China Development Bank with regard to the future corporation between the two institutions.

China Development Bank selected People's Bank to sign a historic memorandum of understanding (MoU) in May 2018 covering areas such as financing, customer referrals, introducing investment opportunities in Sri Lanka and training and experience exchange, etc. The aforesaid facility was signed as a result of this MoU.

China Development Bank was founded in 1994 to provide development-oriented financing for high-priority government projects. At the inception, it was established as a policy financial institution under the direct leadership of the State Council and later, in 2008, it was incorporated as China Development Bank Corporation and was officially defined by State Council as a development finance institution in 2015. At present, it provides financing for national projects such as infrastructure development, basic industries, energy and transportation.

With its headquarters established in Beijing, People's Republic of China, China Development Bank is the world's largest development financial institution and the largest Chinese bank for financing cooperation, long-term lending and bond issuance.

China Development Bank has a registered capital of RMB 421 billion (approximately US $ 63 billion) and its assets grew to RMB 16 trillion (approximately US $ 2.4 trillion) by end-2017.

At present, it has 37 primary branches and three secondary branches across the country, one offshore branch in Hong Kong and 10 representative offices in Egypt, Russia, Brazil, Venezuela, United Kingdom, Laos, Kazakhstan, Belarus, Indonesia and Australia.