---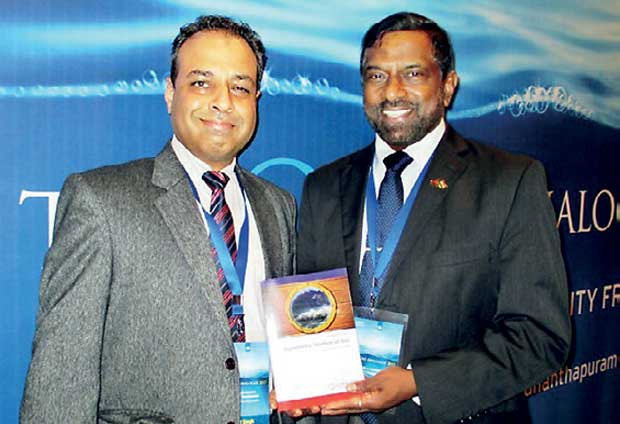 Following a fact-finding tour undertaken by a team of academics representing the prestigious Sichuan University (SCU) in April at the invitation of the Pathfinder Foundation (PF), a three-member PF delegation visited SCU recently with a view to exploring avenues for cooperation with that university.
The PF delegation comprised Bernard Goonetilleke (Chairman), Luxman Siriwardena (Executive Director) and Admiral Dr. Jayanath Colombage, Director Centre for Indo-Lanka Initiatives (CILI) of the Pathfinder Foundation.
Sichuan University is recognized as one of the 10 top universities in China. The university located in Chengdu, capital of the Sichuan Province, is home to app 16 million people.
SCU boasts of 3 campuses, oldest being the Wanjian campus. The Huaxi Campus, located in the city centre, is home to the medical school of the university, which could be of interest to Sri Lankan students aspiring to follow medicine.
The Jinag'an Campus, constructed in 2003, is in the Shuangliu County, which is about 12 km from other campuses. SCU was the result of gradual merger between the oldest higher education institution in China – also known as Sichuan University – Chengdu University of Science and Technology and what was earlier a private West China Union University. The history of the university could be traced back to 1896, and it is one of China's national universities functioning directly under the Ministry of Education.
SCU conducts over 500 degree programmes, through its 31 faculties covering a wide range of fields. Subjects offered at the Sichuan University cover a broad field, including Business & Economics, Life Sciences, Arts & Humanities, Engineering and Technology, Physical Science, Computer Science, Social Sciences, Clinical, Pre-Clinical and Health. With individual departments covering such an array of subjects, the university has attracted over 60,000 graduates and post-graduate students and has a total staff of over 11,000, among whom over 1,300 are professors and 2,345 associate professors.
The university maintains a strong partnership and exchanges with universities in Europe and the US. As such, steps taken by the Pathfinder Foundation to establish relations with SCU and Sri Lankan higher education institutions are bound to bring good dividends to Sri Lankan students, who are in perennial search for cost effective tertiary education in selected disciplines.
During the visit of SCU academic team headed by Prof. Ming Hong to Sri Lanka last April, the Pathfinder Foundation engaged in discussions to determine how that university could forge close relations with Sri Lankan universities as well. Following the discussions with the Pathfinder delegation,the SCU and PF are negotiating to enter in to a MoU for joint academic programmes in association with SCU.
One of the highlights of the visit was the conferment of Guest Professorship of SCU to Adm. Dr. Colombage by the President of SCU, handed over to him by Prof. Yan Shijin, Vice President of SCU. Following the award, Prof. Colombage delivered a lecture on 'Changing Dynamics in the Indian Ocean: Geo-Strategic Competition and Dilemma of Sri Lanka'.
During the discussion Vice President Prof. Yan Shijin had with the visiting Pathfinder team, he emphasized the importance of heightening China-Sri Lanka relationsand Sri Lanka's role in the Belt and Road Initiative of Chinese President Xi Jingping and the desire of SCU to help Sri Lankan students seeking higher education in China.
PF Chairman Bernard Goonetilleke expressed appreciation of PF for the interest of SCU in forging relations with Sri Lanka in the academic field and extended an invitation to Vice President Prof. Yan to visit Sri Lanka at a mutually convenient time, which was accepted by him. The intended joint activities between Pathfinder Foundation and the Sichuan University would be a harbinger for increased cooperation between China and Sri Lanka.