---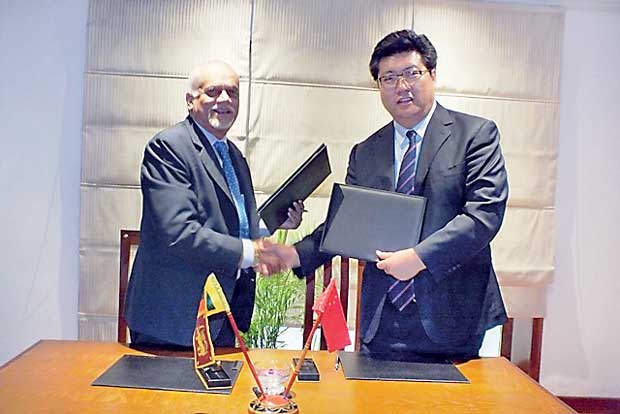 The China-Sri Lanka Cooperation Studies Centre of the Pathfinder Foundation (PF) inked a memorandum of understanding (MoU) with the Chinese Communist Party-affiliated China Centre for Contemporary World Studies (CCCWS), which engages in research in international issues, study on political parties, political systems in foreign countries, China's foreign strategies, socialist theories, trends in social and political thoughts and comparative study of development models.
Pathfinder Foundation Founder Milinda Moragoda invited Deputy Director General Xu Yongquan and PF Executive Director and China–Sri Lanka Cooperation Studies Centre Director Luxman Siriwardena on behalf of CCCWS and PF to singn the MoU.
In pursuit of its objectives, CCCWS conducts exchanges and academic discussions with foreign political party think tanks and research institutes. In this regard, CCCWS has established close ties with domestic political party think tanks, government institutions, universities, as well as research institutes. The Centre has also established a global network of academic exchanges and cooperation with foreign research institutes in the USA, UK, Germany, Russia, Japan, Poland, Romania, Hungary, Bulgaria, DPRK, Brazil, India, South Africa, Israel, etc. With the PF signing the MoU, Sri Lanka became the latest country to be added to its extensive network of cooperation.
The Council of CCCWS comprises influential political personalities as well as experts and scholars from local and foreign academic institutions. Wang Jiarui, Vice Chairman of the 12th National Committee of the Chinese People's political Consultative Conference and Minister of the International Department of the Central Committee of the Communist Party of China (IDCPC), is the Honorary Chairman of the CCCWS Council and Guo Yezhou, Vice Minister of IDCPC, functions as its Chairman.
Signing of the MoU was preceded by a roundtable discussion between the two institutions covering several broad subjects. These included 'How to consolidate the outcome of Silk Road International Cooperation Forum held in May, through Sri Lanka- China Cooperation? How should South Asian countries and China promote economic growth and social progress by building the 21st Century Maritime Silk Road? and suggestions and opinions about cooperation among countries along the 21st Century Maritime Silk Road.
The CCCWS delegation consisted Deputy Director General Xu Yongquan, Director International Relations and Cooperation and Research Fellow Xu Xu, Research Fellow Li Dingxin and Research Assistant and Interpreter Nie Shengquan.
Pathfinder Foundation was represented by Chairman Bernard Goonetilleke, PF Executive Director and China–Sri Lanka Cooperation Studies Centre Director Luxman Siriwardena, Centre for Indo-Lanka Initiatives Director Admiral Dr. Jayanath Colombage and Project Manager Ameera Arooz.