---

Together with the Pathfinder Foundation (PF), the Konrad-Adenauer-Stiftung (KAS) Social and Economic Governance Programme Asia (SOPAS) organised a bilateral expert roundtable conference titled 'Social Market Economy in South Asia: Germans Experience of Fostering Small and Medium Enterprises' in Colombo yesterday.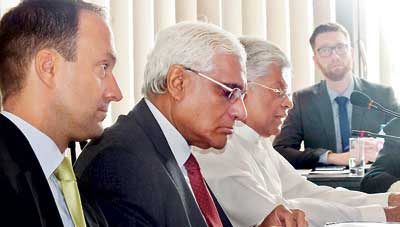 The conference aimed at exploring ways and means how the Germans experience could serve as an impulse for Sri Lanka's sustainable development and a thriving economy. Based in Japan, SOPAS is a regional sector programme of KAS, covering the entire Asia-Pacific region organising conferences, workshops and seminars for experts from Asia and Europe. The goal is to establish a stronger dialogue and a continuous exchange of views on the current challenges, risks and opportunities of multilateral cooperation between Asia and Europe.
Konrad Adenauer Stiftung Japan Office Resident Representative Thomas Awe made welcome remarks and Embassy of the Federal Republic of Germany Deputy Chief of Mission Michael Dohmen and Pathfinder Foundation Chairman Bernard Goonetilleke made opening remarks of the conference.
The keynote address of this conference delivered by Central Bank Governor Dr. Indrajit Coomaraswamy told the government recognizes the importance of internationalization and will facilitate and support small and medium enterprises (SMEs) to access local and export market.
At the conference internationally renowned German and Sri Lankan experts presented their views and comment over how to develop this sector with how to strengthen the capacity and skills of the officials of the banks and financial institution with SME-focused business plan.
The topics also elaborated at this conference include 'An Introductory Overview of the German Social Market Economy as a Model for South Asia' by Prof. Rolf Langhammer, 'A Concise Examination of the Discourse about Social Market Economy and the Role of SMEs in Sri Lanka' by Prof. Sirimal Abeyratne, 'Policies to Facilitate SME Growth in the Sectors of Taxation and Banking' by Prof. Andre Schmidt, 'Entrepreneurial Women in Sri Lanka: Challenges and Way Forward' by Dilesha Perera, 'How may MSMEs be Better Served by Public Utilities' by Prof. Rohan Samarajiva, 'The Significance of Vocational and Dual Education Systems for SMEs in Germany' by Dr. Michael Zibrowius and 'Growth and Competitiveness of Sri Lankan SMEs' by Anushka Wijesinha.