---
Overseas Realty Ceylon PLC reported higher revenues and profits for the three months ended September 30, 2019 (3Q19) amid healthy rental incomes from World Trade Centre (WTC), Colombo, and the revenues recognized on account of the sales of apartments from its Havelock City Phase 4 towers.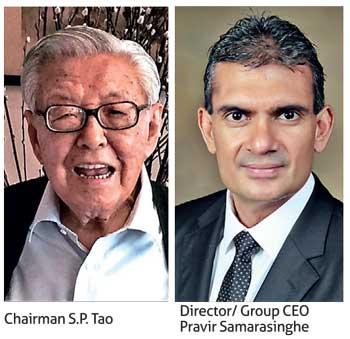 The company reported earnings of Rs.1.03 a share or Rs.1.29 billion for the July – September quarter compared to 93 cents or Rs.1.16 billion reported for the same period last year.
For the nine months, the company reported earnings of Rs. 2.87 a share or Rs.3.57 billion, up from Rs.2.68 a share or Rs.3.33 billion in total earnings.

The company said in a statement that the higher rental rates and healthy occupancy levels maintained during the period supported the top line and it started recognizing the revenues from two apartment towers of Phase 4 of its Havelock City development project.

The revenue from renting out the office space at WTC rose to Rs.617.9 million during the three months from Rs.567.4 million a year ago.

"The on-going refurbishment and upgrading programme to the common facilities of WTC Colombo is currently on schedule, with the intention of continuing to provide a superior service to owners, occupants and visitors", the statement added.

Meanwhile the apartment sales revenue during the quarter under review rose to Rs.1.8 billion from Rs.1.03 billion in the corresponding period last year.

For the nine months ended September 30, 2019, this revenue was Rs.4.1 billion, up from Rs.2.3 billion a year ago.
"Construction of Phase 4 comprising two more luxury apartment towers has been completed up to the roof slab and is expected to be ready by October 2020. Phase 4 offers the final chance to buyers to own an apartment at Havelock City," the statement said.

Phase 3 of Havelock City residential apartments consisting 304 units are now ready for handover, having obtained the Certificate of Conformity (COC) from the Urban Development Authority (UDA), the company said. "A handful of fitted out units are available for sale from Phase 3 at attractive prices excluding VAT", the
company further said. Apart from the residential units, Havelock City also has a commercial development comprising 50-storey grade A office tower named ' Mireka Tower' and a world-class shopping mall offering variety of food and beverage, entertainment and retail options. "Mireka Tower offering distinctive work spaces recently commenced pre-leasing. The Commercial Development is currently under construction and is expected to be completed by April 2021",
the company added.

Singapore-based Shing Kwan group owns 51.2 percent of the issued shares of the company.