---
Osethma Ayurveda Hospital, the renowned and famed name in the Ayurveda medical field in Sri Lanka, has introduced Osethma Seevana, a herbal shampoo to sustain healthy hair, to the Sri Lankan market.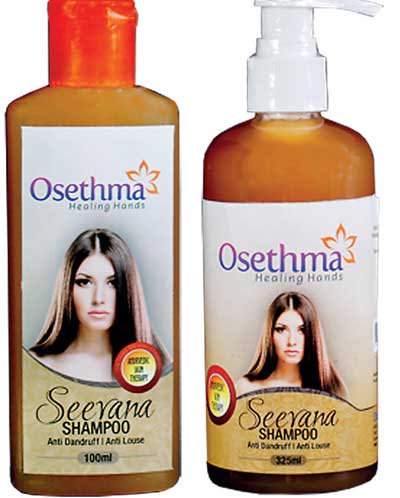 The specialty of Osethma Seevana shampoo is its ability not only to eliminate dandruff but also destroy lice. Herbal formulas which have been used from ancient periods to cleanse the head and hair have also been used in the preparation of the herbal shampoo Osethma Seevana .
Experience herbal nourishment from this unique haircare product with extracts from margosa seeds, shoe flowers, fenugreek, siyakka, komarika and guspenela herbs.
Osethma Seevana which is suitable for users of all ages has also been recommended for the use on children when they take their baths. Osethma Seevana shampoo has received the approval from the Department of Ayurveda of Sri Lanka Formulary Committee.
"Osethma Seevana shampoo has been introduced to the market as a solution and cure of one of the most common social problems in Sri Lanka, dandruff and lice menace. The product whilst cleansing the head and providing the required nourishment for the growth of hair, maintains the required liquidity level on the skull. Because of these qualities Osethma Seevana shampoo have mustered a huge demand among the consumers already" said Osethma Ayurveda Hospital Chairman Dr. Kamal Serasinghe. Osethma Seevana shampoo is available in 100ml and 325 ml packs island wide.