---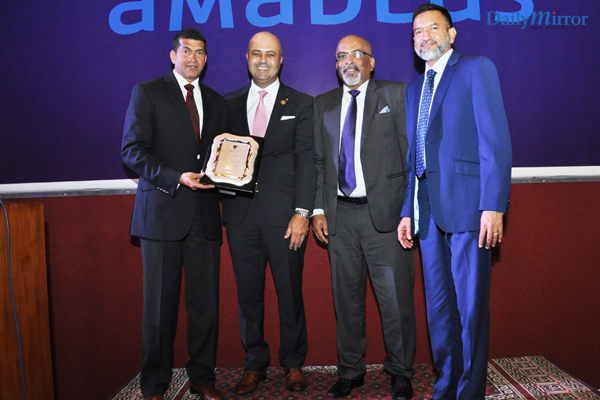 (L-R) Channe Wijemanne - newly elected President, IATA/AASL, Ihab Sorial – Senior Vice President (International) – Oman Air, Gihan Karunaratne – Country Manager, Sri Lanka and Maldives, Rizmi Reyal - newly elected Vice President, IATA/AASL
Oman Air stepped forward to facilitate the 2017 IATA Annual General Meeting as the Exclusive Airline Pared and much anticipated event amongst the IATA tner for the event. A highly-covetfraternity, the AGM was held at the Al Falaj hotel in Muscat on 19th May this year and was followed by a Gala Dinner. A total of 107 IATA agents and some spouses participated. They were treated to several tours to experience Oman's natural beauty and heritage which made for an unforgettable experience.
Sri Lanka has increasingly become one of Oman Air's prized destinations in the region, reflected in the increased frequency of flights between Muscat and Colombo. Omar Air is highly invested in furthering Sri Lanka's travel and tourism community and coming onboard as exclusive airline partner for the event was a testament to its long term plans for the destination.
Oman Air has been steadily carving out significant share in Sri Lanka's aviation industry and has built a strong customer base and brand presence in the local market, successfully fulfilling the evolving travel needs of business and leisure travellers as well as Sri Lankan expatriate workers based in Oman.
Oman Air now operates double flights daily between Colombo and Muscat. The airline currently offers flights from Colombo to a variety of destinations around the world and also many countries in the Gulf region.