---
The tourist arrivals in October fell 22.5 percent year-on-year (YoY) to 118,743, recording the lowest monthly percentage decline compared to the previous year, since the Easter bombings in April.
Sri Lanka saw a sharp 70.8 percent YoY decline in tourist arrivals in May, following the attacks. However, since then, the arrivals have recovered steadily, narrowing the YoY decline to 57 percent in June, 46.9 percent in July, 28.3 percent in August and 27.2 percent in September.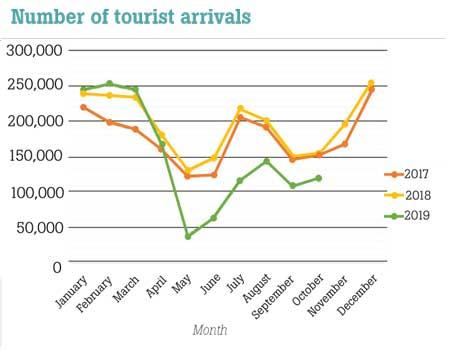 The cumulative tourist arrivals in the first 10 months of the year fell 20.7 percent YoY to 1,495,055.

"It is indeed refreshing to see the arrival numbers growing since April and we are just 20.7 percent behind last year's arrival rate for the same period. We anticipate the numbers to grow further in the months of November through March considering that's the peak season for Sri Lanka," Sri Lanka Tourism Development Authority Chairman Johanne Jayaratne said.

"By January, we should be able to analyse the exact percentage of decline from a volume perspective. However, the financial recovery will take longer. Our projected revenue for 2019 is estimated to be between US $ 3.5 and 3.6 billion," he added.

In October, the largest source markets for tourists were India, followed by China and the United Kingdom.

Almost 98 percent of tourists travelled to Sri Lanka by air. Even though the numbers are lower than the previous years, the trend of month-to-month is similar, which indicates that the seasonal market behaviour has not changed.

Although the tourism authorities were targeting over two million tourists this year, it seems that Sri Lanka will fall short of that target with having to attract over 500,000 visitors in the last two months of the year.

Sri Lanka attracted record 2.3 million tourists last year and tourism earnings topped US $ 4.4 billion.