---
Nestlé Lanka PLC, the local unit of world's largest food company, saw its October-December quarter (4Q16) net profit increasing to Rs.860.1 million from Rs.640.5 million a year ago, supported by top line gains and better management of expenses. The earnings per share as result rose to Rs.16.01 from Rs. 11.92. Meanwhile, for the year ended December 31, 2016 (FY16), the company saw its net profit increasing 6.7 percent year-on-year (YoY) to Rs.4.4 billion.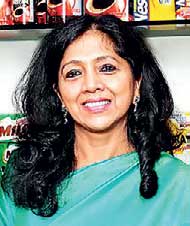 The EPS improved to Rs.81.87 from 76.77. The full year sales grew 5.1 percent YoY to Rs.36.46 billion while the gross profit rose 6.5 percent YoY to Rs.14.18 billion.
"2016 has witnessed a very challenging business environment," Nestlé Lanka's Managing Director, Shivani Hegde stated in an earnings release.
Nestlé Lanka's revenue during the final quarter edged up to Rs.8.63 billion from Rs.8.46 billion while gross profit remained flat due to a slight increase in cost of sales.
However, a significant reduction in marketing, selling and distribution expenses and slight drop in administrative expenses helped the company post a healthy bottom line growth.
The company's retained earnings as at December 31, 2016 stood at Rs.5.48 billion compared to Rs.4.52 billion a year ago.
Switzerland-based Nestlé S.A. owns 90.82 percent of the Nestlé Lanka while the Employees' Provident Fund holds 0.19 percent as the 12th largest shareholder.