---
National Development Bank PLC (NDB), becoming the first bank to release December quarter (4Q17) earnings, reported group earnings of Rs.7.10 a share or Rs.1.20 billion compared to the Rs. 4.41 a share or Rs.726.1 million reported for the same period, last year.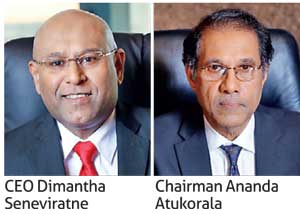 However, the bank on a stand-alone basis saw a slight slippage in profits due to a higher tax charged for the period, but the top line made strong gains amid healthy growth in the loan book.

At the bank level, NDB reported earnings of Rs.6.18 a share or Rs.1.04 billion for the December quarter against Rs.7.00 a share or Rs.1.16 billion in the corresponding period last year, recording a decline of slightly below 10 percent.
The group net interest income rose by a strong 36 percent year-on-year (YoY) to Rs. 3.18 billion reflecting the robust growth in the assets amid the relatively higher interest rates that prevailed throughout the year.

The loans grew by 19.3 percent or Rs.45.1 billion.

The bank on a standalone basis has an asset base of Rs.383.1 billion, which grew by 15 percent.
Meanwhile, the customer deposits grew by a much higher rate of 34 percent or Rs.69.5 billion.
The Current And Savings Account ratio (CASA), which captures the low-cost fund base of the bank slipped to 21.2 percent from 22.8 percent at the beginning of the year. However, the NDB improved its net interest margin to 3.0 percent from 2.64 percent over the year as the bank expanded its retail assets through consumer and credit cards at a much faster pace than in the past.

Banks tend to earn better margins when the interest rates rise in the economy as they charge higher rates for loans than what they offer for deposits.

NDB improved its asset quality as the gross non-performing loan ratio improved to 1.83 percent from 2.63 percent at the beginning of the year.

The bank's BASEL III compliant Common Equity Tier I, Tier I and Tier II capital adequacy ratios stood at 8.85 percent each for the former two and 13.89 percent for the latter against the regulatory minimums of 5.75 percent, 7.25 percent and 11.25 percent.

Meanwhile, for the year ended in December 31, 2017, NDB group reported earnings of Rs.22.04 a share or Rs.3.72 billion, up 38 percent YoY. As of December 31, 2017, controversial primary dealer, Perpetual Treasuries held 4.45 percent stake of NDB being the 7th largest shareholder. Another 1.41 percent stake is held by Perpetual Equities (Private) Limited taking the total stake held in the bank by the Perpetual group up to 5.86 percent. Meanwhile, the government held slightly above 30 percent stake in the bank through Bank of Ceylon, Employees' Provident Fund and Sri Lanka Insurance Corporation.