---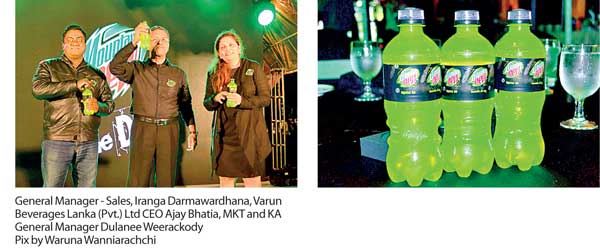 By Zahara Zuhair
Mountain Dew, a Carbonated soft drink entered the Sri Lankan store shelves recently with a revamped look, introduced by Varun Beverages Lanka (Pvt.) Ltd which distributes Pepsico products in the country.
Welcoming the brand, MKT and KA General Manager Dulanee Weerackody said that the new drink will give instant refreshment and an exhilarating experience to the youth.
"Dew is about an attitude, a culture, it is about shrinking all your fears to overcome them and emerging victorious, it is a boost of confidence, the fear factor is over come when you drink Dew," she said.

The product comes in a green neon bottle, which is priced at Rs.100.
Briefing the gathering about the companies marketing campaign, she said that it would be a 360 degree campaign. "The investment is huge," she stressed.
The new advertising effort, includes an experiential campaign, displaying of animated boards and a TV commercial which would be launched on March 15.
Another highlight of the plan would be to have two branded trucks which would be converted to a stunt biking platform in different cities.
Few years ago the product had raised concern about its acceptability as a food item as it contained BVO (brominated vegetable oil), a chemical that is commonly used to prevent carpets from catching on fire, which was subsequently banned in many countries.
When asked for his views on this, Varun Beverages Lanka (Pvt.) Ltd CEO Ajay Bhatia assured Mirror Business that it does not contain any such chemicals.

"It is in India for more than 10 years, it does not contain BVO," he said.
Speaking of the product specialty, he said that the bottle comes in a neon pack which is basically a colour reflecting pack that gives colour and shine.
"It gives a new look. It is the first time it is introduced to this country. It will give a shiny colour like an illumination" he said.

He added that their competitors such as Coca-Cola and Elephant House does not have the lemon flavour as all together the Mountain Dew is a new flavour which comes under the lime and lemon category.
Commenting further, the CEO said that they are looking forward to be the leading brand in the island in the soft drink industry.

Also commenting at the launch, General Manager - Sales, Iranga Darmawardhana said that their expectation is to sell a minimum amount of 100,000 cases of drinks a month.
Varun Beverages Limited manufactures and markets carbonated and non- carbonated soft drinks and package drinking water under the Pepsi brand.
The company's beverage portfolio includes 7up, Miranda and Pepsi, hydrating and nutritional beverages such as Aquafina drinking water and juice based drinks such as Tropicana, Slice and Twister as well as local soda brands.